Limited choice for GP appointments in Wales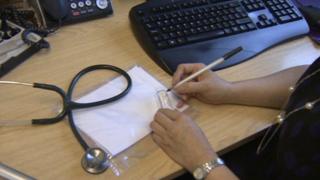 Patients can only see their GP later in the evening in two Welsh health board regions, it has been revealed.
Only one covering parts of south-east Wales and another in south-west Wales had family doctors offering patient slots after 18:30.
Across Wales' seven health boards, only a quarter of GP practices offered appointments up to 18:30 twice a week, a BBC News investigation found.
The Welsh Government said it was working to improve access to GPs.
The BBC analysed official figures published earlier this year about how many family doctors offered appointments before 08:30 in the morning at least twice a week, and also between 18:00 and 18:30 twice a week.
The number of practices offering patients the chance to see them after 18:30 at least once a week were also examined.
The Aneurin Bevan University Health Board (ABUHB), which covers the Gwent Valleys, Monmouthshire and southern Powys, topped the table for late evening appointments - with 41% of its GPs offering the service at least once a week.
The only other area where doctors offered the service was in Hywel Dda University Health Board region covering Carmarthenshire, Pembrokeshire and Ceredigion - but only one-in-10 practices could provide the weekly service.
According to the official figures, 20% of Welsh GP surgeries were able to offer early morning appointments before 08:30 at least twice a week.
BMA Wales, the professional body representing GPs in Wales, said it had been highlighting concerns about out-of-hours services for some time.
"Pressures facing GPs across Wales are increasing and recruitment and retention challenges are putting the system under a real strain, leading to more choosing to leave the profession," said Dr Charlotte Jones, who chairs the BMA Wales GP's committee.
"With the lack of resources and no new investment in out-of-hours services, it is no surprise that GPs are feeling too exhausted to work out-of-hours."
Improving opening hours for family doctors was an aim of the Welsh Government back in 2013, when the then health minister Lesley Griffiths said they were committed to more accessible GP services, with a focus on "extended opening and access to appointments after 6:30pm".
But a Welsh Government official stressed there was no set target for out-of-hours provision at GP surgeries in Wales.
"We expect Health Boards to provide care to meet the needs of patients out of hours, but it should be noted that this isn't necessarily all about GPs," said a spokesman.
"The latest figures show that more appointments are now available for people at more convenient times, and we are working with Health Boards and GPs to improve access further."