Twmbarlwm fire: Firefighters face verbal abuse on mountain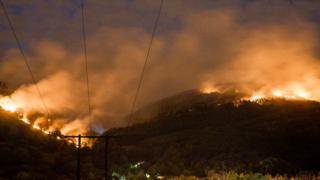 Firefighters have been given police protection as they continue to battle grass fires in parts of south Wales.
Verbal abuse and anti-social behaviour have led to a dispersal order.
It means Gwent Police officers patrolling around Twmbarlwm mountain, Caerphilly, can direct trouble makers away and arrest them if they return.
It comes as people are urged to be vigilant of fires being started deliberately amid a strain on water supplies.
About 60 firefighters have been tackling a huge blaze on Llantysilio mountain, Denbighshire, with smoke reported in the air miles away.
Police have urged people to avoid the area and said those taking photographs of the fire are causing problems for crews.
There have been fires burning on Twmbarlwm for two weeks with new ones occurring as others are put out.
The dispersal order runs until 17:00 BST on Saturday and will give firefighters protection as they tackle them.
South Wales Fire and Rescue Service has eight engines currently tackling grass fires, and has brought in a helicopter to draw extra water in the effort.
Drones will also be implemented to monitor suspicious activity.
"There are fires occurring as quickly as they are put out," said Matt Jones, the head of the fire crime unit.
"Lives of the individuals setting the fires are at risk, they are also putting the firefighters at unnecessary risk, and the local communities."
He said the force was "working day and night" to keep the blazes away from wildlife and houses and officers were now speaking to youngsters about the dangers of setting them.
Mr Jones said it was unclear if all the fires were being set deliberately as some could have been due to the extreme heat.
Full investigations will be carried out place into the cause, he added.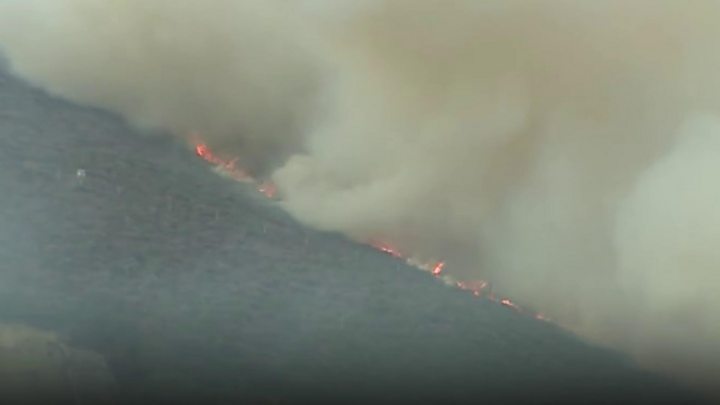 He described the conditions as "challenging" because of the mountain terrain and heat.
Despite the need for the dispersal order, he praised the local community for providing meals and drinks, saying their support has been "extremely heartwarming".
Meanwhile, 12 crews have been at the scene of the blaze on Llantysilio mountain, near Llangollen, on Friday and the nearby A542 Horseshoe Pass remains closed.
North Wales Fire and Rescue Service said the control room had received calls from concerned people reporting smoke in the air from 12 miles away in Wrexham.
Natural Resources Wales (NRW) has warned that it could take "decades" for the land to recover once the fire is extinguished.
The area is designated a site of special scientific interest, and is an important habitat for rare species of bird such as the black grouse.
There are various other fires around south and west Wales with Maerdy Mountain road, Rhondda Cynon Taff and Gorseinon Road, Swansea, closed because of incidents.
Drinking water supplies may also be affected as Welsh Water supports the fire services across Wales to put out grass fires, supplying them with about a million litres of water a week through tankers.
Welsh Water has already asked customers to use water efficiently to help maintain supplies and protect the environment.
Its managing director Peter Perry said: "As well as the significant burden on resources of the emergency services, tackling these fires is diverting valuable drinking water supplies at a time when we're experiencing some of the hottest weather on record.
"Deliberate fires undermine the great efforts customers go to use their water efficiently."