Kingdom: Litter fine firm leaves half of deals in Wales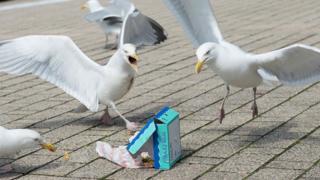 A controversial firm that fines people for littering has either been dropped or has not renewed half of its deals in Wales.
Councils employed Kingdom to tackle the increasing problem of litter and, while the firm has delivered results, it has not been without problems.
It is still in four of the eight contracts it has agreed since 2013, but one deal lasted less than 24 hours.
Kingdom did not respond to a request for comment about its plans in Wales.
The firm had vastly different deals for each council, ranging from a fixed fee - so officers were not seen to be target chasing - to splitting the money made from each fine.
Councils kept between 5% and 40% of the £100 fines for dog fouling and £75 fines for littering.
Kingdom failed to respond to questions about whether it planned to withdraw from Wales as the rest of its contracts ended.
Previously, it said it had been the victim of "a malicious disinformation campaign" with employees threatened and their home addresses published on social media.
In June, a spokesman said: "In what has become a highly charged environment, Kingdom continues to take a view on a case by case basis as to whether we can continue working under such circumstances."
Which deals has Kingdom ended?
Officers worked on Anglesey from May 2017 to May 2018, but Kingdom opted not to renew the deal. Under the terms, the council kept 5% of every fine.
Denbighshire council's five-year deal ended when Kingdom decided not to renew it - it ends on 17 August.
Gwynedd's deal lasted less than a day and was cancelled by mutual consent due to what the council called "operational issues".
Which council binned Kingdom?
A Flintshire council report said a "small number of cases are undermining the reputation of both the company and the authority" when the council decided not to renew a deal that began in May 2016 and saw the fines split 85/15 in favour of Kingdom.
Kingdom then served notice of its intention to stop working in the area by August.
Where does Kingdom still work?
Torfaen pays Kingdom a fee and keeps money from fines - the authority said this had a net cost of £40,875 in 2017-18. Its deal ends in September and it is looking at "developing an in-house" equivalent.
Blaenau Gwent council "is likely to retender for a service provider" when its five-year deal ends in September.
Two Kingdom staff are paid an hourly rate, with the council keeping the fine money, while Kingdom pays for another two staff and splits fines, but the authority refused to disclose the details, citing "commercially confidentiality".
Conwy council's deal began in 2014 and it signed a two-year extension in 2016 with the option of an extra year - it keeps £40 of every dog fouling fine and £30 of each littering fine - but this deal comes to an end on 9 August after Kingdom gave notice it did not want to extend the contract.
Wrexham's deal began in April 2016 and lasts until May 2019, with the option to extend for 12 months. The council would not reveal how much it makes from fines.
What impact does it have?
Councils using Kingdom saw the number of fines skyrocket.
In the two years before Kingdom started in Flintshire, the council handed out 358 fines totalling £14,950. In 2016-17, this flew to 4,130 fines worth £230,525.
Monmouthshire - which has never used Kingdom - did not issue a single fine for littering between April 2014 and March 2017.
Neighbouring Blaenau Gwent handed out 4,597 fines in the same period, generating £282,745.