Lack of farms plastic recycling options 'ridiculous'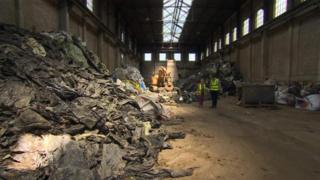 The lack of recycling facilities willing to take in leftover plastic material from farms is "ridiculous", a Welsh waste management firm has said.
Birch Farm Plastics said it is the only firm solely dedicated to agricultural plastic collection in Wales.
Agricultural plastic represents about 30% of the waste produced on farms, according to Welsh government figures.
Environment Minister Hannah Blythyn said it was important to get the infrastructure in place.
The Birch family from Pontardawe, Neath Port Talbot, has been picking up plastic from farms for 25 years and works with farmers across the UK.
It takes in approximately 10,000 tonnes of bale wrap, silage bags and other plastic material a year, which would weigh about as much as the Eiffel Tower.
The plastics are sent to British Polythene Industries recycling plant in Rhymney, Caerphilly County, and turned into various products such as pit liners and refuse bags.
The family also uses the recycled plastic to manufacture street and garden furniture.
Marilyn Birch, who founded the company with her husband Peter, said Welsh farmers had been ahead of the game in tackling plastic waste, sending their leftover material to be recycled long before regulations to that effect came into force in 2006.
But after the BBC's Blue Planet II series highlighted the devastating impact plastic pollution is having on our seas, she said the demand for their services had surged.
"Farmers are really taking it on board, they want to reduce their waste and have it recycled. So we really do need the facilities to deal with it," she said.
"There's only one plant in Wales that will take the agricultural film, one in England and one in Scotland - so three recycling plants to deal with all this agricultural waste - it's ridiculous really."
"But when we've contacted local authorities over the years to ask them how they feel they can help with the issues of farm plastics they're not interested because their targets are to do with municipal waste."
She added: "As long as they can get rid of their municipal waste they aren't bothered about the agriculture side of things.
"The government needs to look at establishing further recycling plants in the UK - because there's no point getting this material in if there isn't a home for it to be recycled, and of course it also needs to be turned into a product that is marketable at the end of the day."
Tackling plastic waste is one of the topics being discussed at the Royal Welsh Agricultural Show in Llanelwedd, Powys.
Environment Minister Hannah Blythyn is there to highlight the Welsh government's recent announcement about new measures to tackle plastic waste.
She said: "There's a an appetite there. It's really important we work with farmers as well as other businesses and retailers in Wales so anything we do, we do collaboratively."