Sir Tom Jones 'determined' to return to performing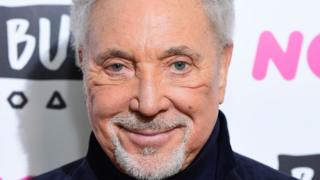 Sir Tom Jones has told fans he is "determined" to return to performing after being treated in hospital when he fell ill.
The 78-year-old has called off four shows this week - three in the UK - due to a "bacterial infection".
Sir Tom has apologised to fans, and a Twitter statement says he is in "good spirits" and the condition is being "well managed under doctor's orders".
"Appropriate recovery time and rest is advised," the statement added.
The Grammy and Brit award-winning superstar - a judge on The Voice UK Saturday night TV show - was due to perform at Stansted Park near Portsmouth on Wednesday and Chester Racecourse on Thursday.
But after the Stansted show was cancelled and the Chester performance rescheduled for 12 August, Sir Tom cancelled Saturday's concert at Lingen in Germany and Sunday's event at Belvoir Castle in Leicestershire.
"Sir Tom is in good spirits and wants to extend both his heartfelt appreciation and his sincere apologies to all who planned to attend the shows, as well as those involved in the events," his statement read.
"He is determined to be back performing very soon."
Sir Tom's next scheduled show is in Turku in Finland on Wednesday followed by a concert at York Racecourse on Friday.
He is then due to play in France, Turkey and Germany before a gig in Edinburgh on 6 August.
The It's Not Unusual singer cancelled his US tour last September, five days before it was due to start. Sir Tom later revealed he had had to have a hip replacement.