Welsh teens 'pushed to the limit' at US police academy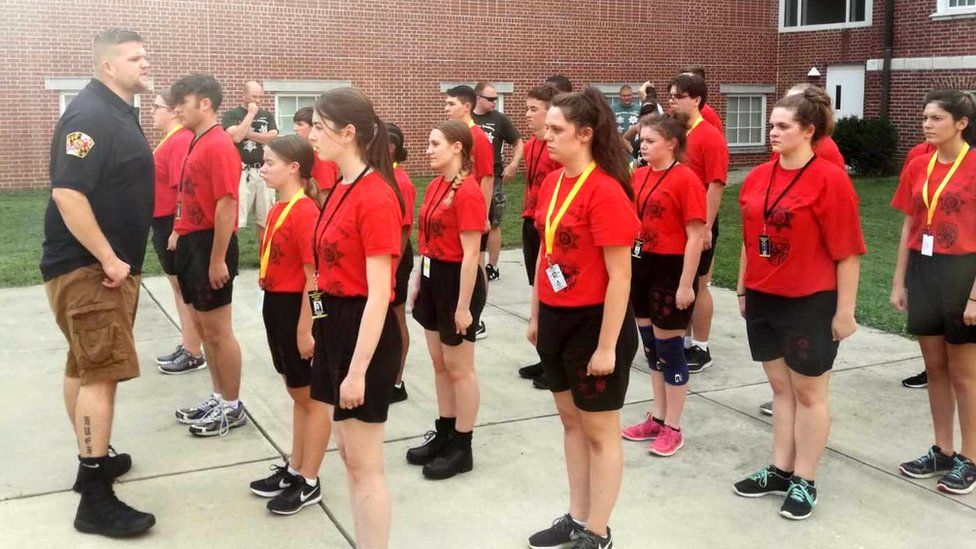 'Shot', 'stabbed' and shouted at. Welcome to Police Academy - USA-style.
It was a challenge that pushed a group of teenagers from Powys to their physical limits - and an insight into how American junior trainees are put through their paces.
The four members of the Dyfed-Powys Volunteer Police Cadets were the first from the Welsh force to take part in such an exchange.
But would they still be smiling after a week in the US state of Maryland?
"Each day we were put through physical and mental anguish, like we have never experienced before," said cadet Tomos Chick, 16.
"We pushed ourselves to the limit so often that we don't even remotely look at ourselves in the same light anymore."
The Newtown teenagers were getting the condensed version of the 26-week training real officers are put through, before becoming Maryland State Troopers.
Just like the adult bootcamp, every day started the same - a run at five o'clock in the morning.
And for fun, there were some surprises thrown in on the first night.
"We were woken by horns and sirens at midnight, which we were not expecting at all. We had to go outside for a two-and-a-half-hour physical training and drill session," said Cheyenne Kirby, 16.
"We did running and core exercises, had to do planks on the grass, and if we didn't answer with 'yes sir, no sir' there was a forfeit.
"It was definitely a tough start."
On top of the early starts for their mile-and-a-half runs, there were the dreaded room inspections. If anything was out of place - it was push-ups in the hall as punishment.
But it was not all drills and physical training.
Their timetable included sessions on gang awareness, social media dangers, and real-life policing problems.
Being the United States - this meant guns too. Every cadet was issued with a belt, handcuffs and imitation firearms, and then placed in life-and-death scenarios.
Cadet Rebecca Roberts, 17, said they got off to a bad start - she was 'shot' by a suspect in their first room, while her partner was 'stabbed' in the second room.
In a third - they managed to survive - but their 'criminal' escaped.
"There are still things to be learned, but I would never have thought that I would be doing these things a few days before. I wouldn't have had any confidence to do it," said Rebecca.
But did they enjoy their experience?
"Through the week I've learned that teamwork is everything and you can't get through it alone. We've made so many new friends, who have all helped us get through it," said 17-year-old Ffion Jones.
"They were like a family to us at the end."
The four ended their week with a graduation ceremony, before heading back to Wales.
"I'm glad I took this opportunity - the idea to come to America for this academy both scared and exited me initially," said Tomos, who was given the nickname Smiley and asked to give the graduation speech.
"I didn't know what to expect, and the culture shock was gruelling. But this programme was a life-altering decision, and I cannot repeat that enough."