Sunburn and dehydration: Homeless in the heatwave
By Colette Hume
BBC News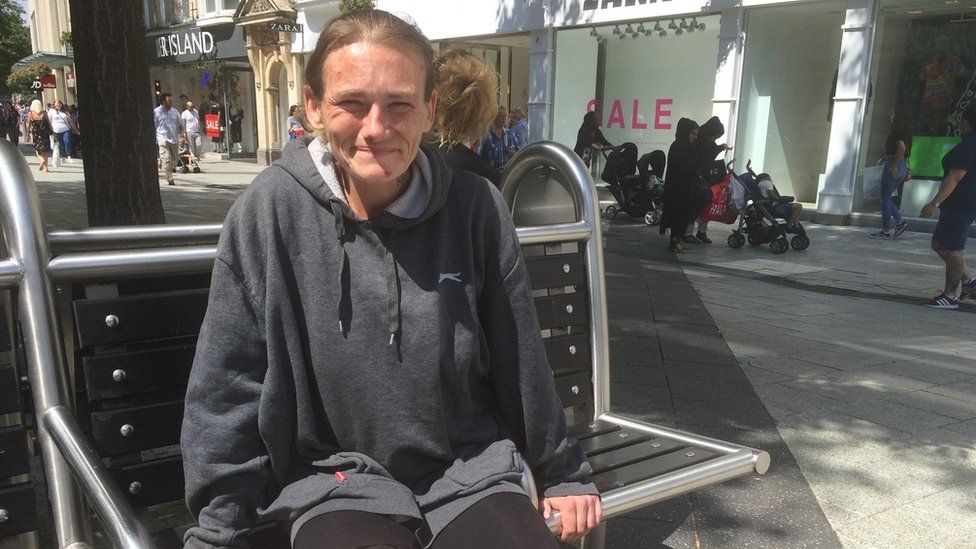 A rough sleeper in Cardiff has said she is covered in big blisters and sores as she battles to cope with the heatwave.
Victoria's case is just one example homeless charity the Wallich is seeing with other people suffering heatstroke, sunburn and dehydration.
The charity said people were "really struggling" and asked the public to give them water.
The Wallich, which helps homeless people across Wales, said it had seen a rise in people needing help during the extreme weather this year.
Chief executive Lindsay Cordery-Bruce said the heat was taking its toll on rough sleepers and asked people to give those on the streets a bottle of water, hayfever tablets, aftersun or a cheap pair of sunglasses, and if they were really concerned to ring 999.
"The guys out there are telling us that they're struggling with the heat just as much as they're struggling with the snow," she said.
"We're seeing a lot of very poorly people that are sleeping on our streets at the moment, ranging from heatstroke, sunburn, insect bites, dehydration, people are really struggling out there at the minute."
"The loneliness that someone experiences when they're sleeping rough, it's a really powerful and demeaning thing," she added.
"There are things that you can do other than giving money that can really help somebody out."
Victoria's blistered skin on her face and legs is showing the toll of her being unable to escape the baking heat.
With no access to clean water, infection has set in, she has been prescribed some antibiotics and told to stay out of the sun, but it is hard when you live on the streets.
"It's so painful", she said.
Victoria and her partner Gavin are living in a tent in the centre of Cardiff, but she is frightened about leaving the door open of a night in case she is attacked - something which has happened before.
A man burned her face with a lighter and urinated on the tent, she said.
"It's boiling... frightening, very warm and clammy... it's horrible... and we're in middle of the city... we're so vulnerable," she said.
Her partner Gavin does not think she will be able to cope with it much longer and wants it to end.
"I'd rather be cold, because in the cold we can always put extra layers on, but when it's really warm it's so uncomfortable, but you can't get away from it here. There's nowhere to go," he said.
"We can't get any sleep at night. It's easier in the winter, a lot easier. I want this heatwave to stop now, defo, she can't take much more of this."