Rugby star Shane Williams' image used by 'substandard' builder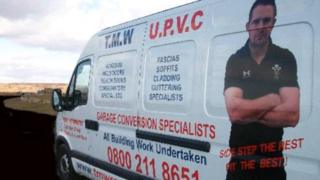 Former Wales rugby star Shane Williams says he is taking legal advice after a builder accused of substandard work used his image to promote his business.
Neil Taylor, owner of TMW Roofline in Bryncethin in Bridgend county, used the star's face on his van and website.
Mr Williams said Mr Taylor did some work on his house 10 years ago but he had nothing to do with the company.
Mr Taylor said he had taken the star's name off his paperwork and does not mislead anyone on his website.
The former Wales and Lions wing said: "The agreement was [he would] do the work and I would give him a testimonial and a photograph.... and that's about as far as it goes.
"I don't work with the company, I'm not involved with the company and I certainly haven't received a penny."
An investigation by BBC Wales TV programme X-Ray found 47 photographs of building projects on Mr Taylor's company website appeared on at least one other company website and one appeared on 40 sites around the world.
A surveyor described the work Mr Taylor did for a couple in Aberkenfig as "appalling".
Lisa John and Neil Bartlett hired him to build a new room in their garden and a small extension on the side of their house for £30,000.
But days after making their final payment to his company, faults in the work began to show.
"We had water coming in through the ceilings and we were just constantly on the phone to him," said Ms John.
"He did come down and his solution - which was I think his favourite thing - was to put a big block of silicone back over the hole and tell us it was fixed."
The couple noticed patio tiles were loose and began having issues with their plumbing.
Then in March, when the country was hit by days of heavy snowfall, they had snow coming in through the ceiling and had to cover it with bin bags to keep out the wind.
"He then admitted by text that he had put the wrong fittings on the side which is why we had water coming in," said Ms John.
"By this point we'd completely lost any faith in this man."
Surveyor Tim Davies assessed the work and said: "I really can't find anything that is right with this roof. It's been so badly done. It's quite appalling to be honest.
"It is plain for all to see that this is an incredibly substandard work. This is lower than DIY standard."
Mr Taylor said bad weather meant work on the couple's home in Aberkenfig over-ran and he has been back on site and fixed the patio - the couple said they were still waiting for their roof to be fixed.
He said he believed he worked on all the projects pictured on his company's website.
The story featured in X-Ray on BBC One Wales at 19:30 BST on Monday 9 July and is also available on the BBC iPlayer.