Lyons put pressure on Daily Post over minimum wage story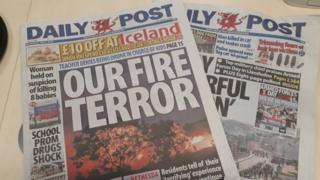 A north Wales holiday company tried to persuade a newspaper not to name it in a story about firms that failed to pay minimum wages to staff, citing the money it spent with it commercially.
Lyons Holiday Parks emailed a Daily Post reporter requesting its Oakfield Caravan Park be omitted "based on the amount of money we spend with you".
The newspaper named the firm, based in Denbighshire, in its coverage.
Lyons Holiday Parks declined to comment.
An email chain forwarded to BBC Wales in error by the company shows that on 8 March Owen Hughes, business correspondent for the newspaper, wrote an email to Lyons Holiday Parks saying: "Just getting in touch from the Daily Post as we had been sent a list of employers that the government will name tomorrow for not paying the minimum wage.
"Oakfield Caravan Park Ltd is on that list, and I understand it is a site owned by Lyons. I wanted to see if the company wanted to respond to this."
'Named and shamed'
Later that day the company sent a one-line response which said: "I would kindly ask, based on the amount of money we spend with you guys, that Oakfield is not published on that list."
The Daily Post published its story the following day and named Oakfield Caravan Park Ltd as part of a list of firms "named and shamed" by the UK government for underpaying workers.
Martin Shipton, acting chairman of the National Union of Journalists in Wales, said: "With declining circulations and the need to raise advertising revenue it is perhaps inevitable that newspapers and news outlets in the private sector generally will come under this kind of commercial pressure.
"It is however extremely important that this kind of pressure is resisted and that those who seek to exact it are where possible exposed."