NHS at 70: Health service celebrations held across Wales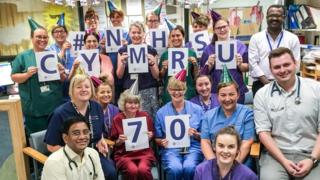 The 70th birthday of the NHS has been marked with celebrations and events across Wales.
On 5 July 1948, the National Health Service was launched, spearheaded by Welsh MP and then-health minister Aneurin Bevan.
Events involving patients, staff from past and present, Prince Charles and the Duchess of Cornwall marked the milestone anniversary.
And Aneira Thomas - the first NHS baby - gave a talk at the Senedd.
As part of the royal couple's trip they visited Ysbyty Aneurin Bevan in Ebbw Vale, the town Bevan served as an MP from 1929 - 1960.
This included a garden party with more than 300 people with 1940s-themed food and staff dressed in old nurses uniforms.
Judith White, an area manager for the ambulance service, chatted to the prince about the work of her teams.
She said: "It's great to be able to celebrate 70 years of the NHS and we're very proud to be a part of it."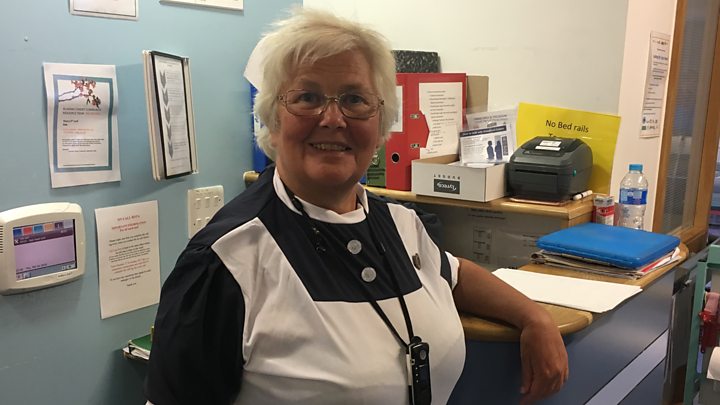 Judith Jones, a staff nurse who has worked for the NHS for 40 years, added: "Everyone has been so enthusiastic - patients have loved it, so thrilled."
It was not just the NHS turning 70 that was being marked as one patient was celebrating the milestone herself.
Nyerie Jennifer Owen, named after the NHS founder, said: "I'm proud of it, that it's survived. I am very proud that I'm part of it and the anniversary today."
As part of the celebrations, Super Furry Animals front man Gruff Rhys released a specially-written song about the health service.
He performed No Profit in Pain outside Cardiff Castle to launch National Theatre Wales' NHS70 Festival.
He said: "The NHS is something that we can too easily take for granted. It's been there for me throughout my life and has also saved many of my family members lives."
These events follow a parade in Bevan's hometown of Tredegar, Blaenau Gwent, attended by hundreds of people at the weekend.
Britain's Got Talent finalist Nathan Wyburn marked the occasion by creating a 12m sq mural of Bevan on moorland near Tredegar using soil and white stone dust from a nearby quarry.
'Girls were not allowed to wear trousers to work'
Suzie Curtin is the same age as the NHS and has 54 years of service under her belt.
The medical secretary, from Dinas Powys, Vale of Glamorgan, works in the gynaecology directorate office at the University Hospital of Wales in Cardiff.
She said: "I came to work in the NHS straight from typing school and started my training in Llandough Hospital. I've only ever known working for the NHS. I love it.
"There have been lots of changes since I started. We had a matron in charge at Llandough and girls were not allowed to wear trousers to work!
"I have loved my job, meeting lots of lovely patients and colleagues throughout my career and although I missed Llandough when gynaecology moved to the Heath four years ago, I am still enjoying working for the NHS at the age of 70."