Homeless charity fears young people 'trapped' on streets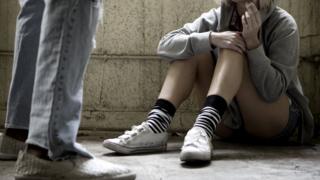 At the age of 23, Cerys just wants simple things "like being able to have a shower, hot food and someone to talk to".
But after a prison sentence for dealing Class A drugs, she lives on the streets and said she had been abused by men who knew she had nowhere else to go.
Her story comes as Shelter Cymru warned homeless people were "trapped on the streets" due to a gaps in support.
The Welsh Government said it was investing £20m to tackle homelessness.
In a new report the charity claims Cerys's story is not unique and there had been a "visible" rise in homeless young people on the street.
Cerys, whose real identity has been withheld to protect her, lost the house she had been given after leaving care five years ago after constantly having parties.
After her spell in prison, she was unable to rent somewhere due to her reputation.
She said: "Life is really hard right now. I have depression, anxiety, paranoia and psychosis. I've been spat on, kicked.
"I am always in and out of abusive relationships, usually with older men who take advantage because they know I have nowhere to go.
"I have been hospitalised because of domestic abuse. I'm dirty all the time living like this. I'm cold, depressed and have OD'd several times."
Cerys was taken into care at 13 because of her parents' drug and alcohol problems and said her chaotic upbringing resulted in her becoming an addict.
"I think I need to go to rehab, somewhere I can stay and sort myself out and then have my own flat," she said.
"I'd like to get in contact with my parents again and maybe go to college to do hair and beauty."
According to the latest figures, there are an estimated 345 people sleeping rough in Wales.
However, officials say the actual figure is likely to be higher because not everyone who sleeps rough is known to charities or the authorities.
Shelter Cymru said, based on an annual one-night count in November, the number of those living on the streets had increased from 313 to 345 in 12 months.
It said anyone "could not fail to notice" how many people were homeless.
On Thursday, the charity launches its latest study - Trapped on the Streets - based on conversations with 100 people living on the streets.
It said while many services "work incredibly hard" there were still gaps in homeless people's legal rights and warned parts of Wales had virtually no access to emergency beds.
A spokeswoman said: "Street homelessness is visibly on the rise in Wales, particularly among younger people, and the study identifies that austerity and welfare cuts are key factors."
The Welsh Government spokeswoman said "we need a better understanding of the factors behind the increase in rough sleeping" and this report would go some way to achieving that as it worked on its plan to cut the number of people on the streets.