Mental health: Welsh Government reply 'not good enough'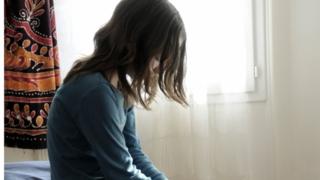 Assembly members shared personal experiences of mental health services following criticism of the Welsh Government's response to a report into children's emotional wellbeing.
Children's committee chair Lynne Neagle AM said their recommendations had not been given "the respect they deserve".
In April they called for more emphasis on prevention and ring-fenced funding for schools to promote mental health.
The Welsh Government said the mental health of young people was "paramount".
Labour AM Lynne Neagle told a debate in the Senedd that the committee believed "something drastic" had to be done to make sure children and young people did not carry on "suffering unnecessarily".
But she said in the Welsh Government's response to the committee report too many important points had been rejected while others had only been "accepted in principle".
It did not, she said, meet the committee's demand for "a step change in approach".
Ms Neagle said the Welsh Government should reconsider their response and come back to the committee early in the autumn.
"As a committee we reject this response. It is not good enough," Ms Neagle added.
"Neither the detailed evidence we've outlined, provided by a range of experts with significant experience in this field, nor the recommendations to which we have given considerable and serious thought, have met with the acknowledgement, analysis and respect they deserve."
'Family distress'
Speaking in the Senedd, many AMs said they were disappointed with the Welsh Government's response.
Llanelli AM Lee Waters said it was "bitterly disappointing".
Reflecting on his own family's experience he said "I've lived the issues presented in this report".
"I first experienced the system when my son was seven years old - I was told 'come back when he's throwing himself against the wall'".
The Labour AM said that six years later, after hospital treatment, they got effective support.
But early intervention he said would have "prevented enormous family strain and distress".
Plaid Cymru AM and GP Dai Lloyd talked about seeing "horrendously damaged" young people at his Swansea surgery.
"I have to wait for them to be bad enough to access CAMHS (Child and Adolescent Mental Health Services)."
He said he had "nowhere to refer them to because they're not bad enough or [don't] have a mental health diagnosis".
The Children's Commissioner for Wales Sally Holland said the Welsh Government had missed an opportunity for a "step change" in children and young people's emotional and mental health services.
She said: "I think in Wales we can do this much better and I'm urging the government to respond with a bolder, more radical and actually, a more Welsh way that would fit with our legislation."
'Shared ambitions'
A Welsh Government spokesman said the emotional and mental health of our young people was paramount.
"Although we may disagree with how to achieve some of the committee's recommendations, we share the same ambitions," he said.
He said they recognised there was still much work to be done but said progress had been made, including funding being made available for the CAMHS school in-reach programme to provide dedicated professional support to schools.
"We are also investing significantly to improve CAMHS provision across primary and secondary care, with £8m annual dedicated funding which has seen the recruitment of new staff, training of existing staff and the establishment of new services," he added.
He said they will reflect on the comments made in the chamber and will work with the committee to secure the "best possible" emotional and mental health support for young people.