NHS 70: 'Service will need 66% of Welsh budget by 2048'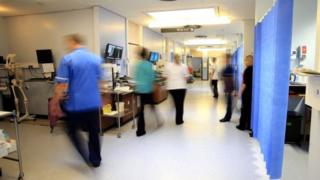 The NHS will consume 66% of the Welsh budget by 2048 if demand increases in line with predicted demand, according to new research.
Health economist Prof Ceri Phillips said spending on the NHS would need to rise by 4% a year.
Currently £6bn out of a total Welsh budget of £14.5bn goes to the NHS.
The Welsh Government said its Health and Social Care Plan aimed to reduce demand through more people managing their own health and well-being.
BBC Wales Investigates had asked Prof Phillips, from Swansea University, to question existing projections for healthcare in Wales and then calculate how much extra spending would be needed to keep the NHS afloat.
The Health Foundation previously estimated spending should rise by 3.2% a year.
But Prof Phillips said this research two years ago was based on assumptions that could now be out of date because of increasing demand and other changes.
He said if spending rose in line with his new projections of growth in demand, the NHS budget would increase from about £6bn now to more than £17bn by 2048 - the year of the NHS turns 100.
But Prof Phillips said: "Throwing money at the system is not the solution."
He said demand for healthcare could be reduced by reforming the way it is delivered, by improving the efficiency of the system and keeping a grip on pay levels.
The Welsh Government said its Health and Social Care Plan, unveiled last month, aimed to have more people managing their own health and well-being "supported by new technologies and by integrated health and social care services which are delivered closer to home".
Health Secretary Vaughan Gething said: "There's quite a lot of change going to be delivered.
"That change must be about changing the focus of where care takes place and actually not keeping people in hospital for as long as they currently are."
There will also, he said, be more emphasis on preventive measures to keep people out of the system altogether.
"I do expect to see a difference. It's about people making their own choices: saying to someone to change the way they eat, it's good for them, good for families, and we need to better to explain what works and make it easy for people."
NHS Street
People living in the hometown of the founder of the NHS, Aneurin Bevan, have spoken of their hopes and fears for its future.
Asheley Thomas, 29, who is a learning disability nurse from Tredegar, said: "If we were ever to go down a private insurance route, a lot of people would lose out.
"It's also a big employer in this area. I know two paramedics, five other nurses, one doctor and some healthcare assistants.
"But having worked in it as a nurse, I also worry about its future."
Read more stories about health and the NHS from Aneurin Bevan's hometown.
Prof Phillips calculated that spending on the Welsh NHS could be kept to under 50% of the budget if changes, such as those outlined by the Welsh Government, succeeded in reducing additional demand for healthcare to 2.5% a year.
But he said there would also have to be improvements in efficiency within the NHS in excess of those achieved over the past few years.
"Reforms to reduce demand and bring in new ways of delivering social care will themselves need significant investment which have not been factored into the calculations," he added.
Last month Prime Minister Theresa May announced the NHS in England would be getting an annual budget increase of 3.4% up to 2023.
It is not yet known what this announcement will mean in extra cash for Wales or how the Welsh Government would spend any windfall.
The NHS: Fit for Purpose? will be shown on BBC One Wales at 22:40 BST on 4 July