Gwynedd countryside wildfire 'may be deliberate'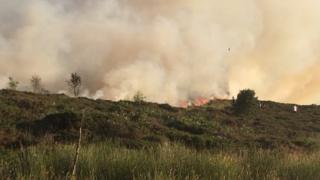 A wildfire which spread across a mile of countryside may have been started deliberately, fire chiefs have said.
Firefighters are continuing to dampen down at Carmel, Gwynedd, after the blaze started on Monday.
North Wales Fire and Rescue Service said "investigations are ongoing" into the cause.
Firefighters across Wales are continuing to deal with an "unprecedented" number of wildfires.
Crews were still at the site of a fire in Aberpergwm woods in Neath Port Talbot on Wednesday, with a helicopter expected to be brought in to help.
Other fires still being dealt with on Wednesday included:
Crews returned to a fire on Bangor mountain at 04:30 BST following reports it had reignited
Damping down took place at a gorse fire in Carmel
A crew kept watch at a forest fire in Bethesda
Crews returned to a grass fire in Wattstown, Rhondda Cynon Taff
Crews were still needed at Cwmtydu, Ceredigion, tackling pockets of fire at a 10-hectare blaze
Anglesey council said several walking paths had been widened to help create firebreaks, safety notices had been put up and fire beaters had been made available to staff.
North Wales Fire and Rescue Service said the spate of wildfires had put firefighters under "tremendous pressure", prompting calls for people to put out barbecues and cigarettes properly.
The service was called to 44 small fires and six large fires in the open since between midnight on Monday and 17:30 on Tuesday.
Fires have also broken out across Wales over the past week, including on Maerdy mountain in Rhondda Cynon Taff.
Officials described the number of incidents as "unprecedented".
Kevin Roberts, senior fire safety manager at North Wales Fire and Rescue Service, said on Tuesday: "In these dry conditions, fires involving grass, bracken and heather can develop extremely quickly, especially in raised winds, and fires can soon get out of control.
"So if you are out, it is more important than ever in these conditions to make sure that any smoking materials are discarded and extinguished properly.
"If you are out camping, again make sure that campfires or barbeques are fully extinguished. Better still, avoid open fires altogether in this dry period."