BBC Wales cuts jobs ahead of Central Square move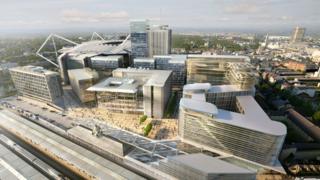 BBC Wales is to close 83 jobs in its technology, operations and archives departments, it has announced.
The changes come ahead of the relocation of the broadcaster's headquarters from Llandaff to Cardiff's Central Square.
The total number of jobs closing is 83 but the corporation said 18 new roles would be created as part of the restructure.
The changes are expected by the end of 2019 or early 2020.
A consultation with affected staff and union representatives is under way.
Director of BBC Cymru Wales, Rhodri Talfan Davies said: "The move to Central Square is the biggest transformation project ever undertaken by BBC Wales - and the proposed changes, while extremely difficult, are essential if we're to ready the organisation for the relocation.
"With such a major investment in new technology systems - including a fully digitised archive - changes were inevitable.
"But I know today's announcements will cause a good deal of concern, and we will be doing everything possible to support colleagues during this time of change."
Among those affected by the planned restructure are 35 members of staff who currently work for S4C but who will transfer to the BBC when both broadcasters share transmission and playout systems in the new building.
S4C currently has its own facility at its headquarters in the Llanishen area of Cardiff but will shortly begin relocating its own staff to a new office in Carmarthen.
In April, the BBC took possession of its new building in Central Square.
It will become the first broadcasting centre in the UK to use internet protocol (IP) technology, which will be used across the building including for controlling cameras and editing TV footage.
The BBC's overall investment in the new building is around £100m, while its existing headquarters in Llandaff will be developed for housing.
BBC Wales has recently digitised its archive of tapes and films that had been stored at its Llandaff headquarters, allowing staff to access historical broadcasts at their computers.