Domestic abuse victim's 'shock' over partner's impending release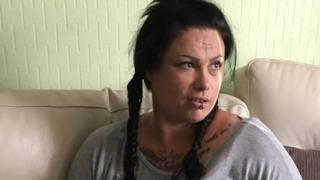 A woman beaten with a hammer and forced to eat pictures of dead family members fears for her life after learning her ex-boyfriend is due to leave prison.
Craig Thomas was jailed for 10 years in 2013 after holding Charlotte Rooks captive for four weeks, but is set to be released on licence.
Miss Rooks said she was angry and upset after learning of Thomas's impending release via social media.
The Ministry of Justice insisted it "closely monitors" abusers like Thomas.
Miss Rooks said: "I have made a will, I sleep with a hammer under my bed, we've got crowbars and an axe in the house.
"I've got CCTV cameras set-up in the house and alarms on the windows and doors as well as panic alarms, but I'm still petrified.
"If he doesn't kill me he'll kill someone else, and I believe that. I'm scared."
Thomas pleaded guilty to grievous bodily harm in June 2013 and was jailed after subjecting Miss Rooks to several months of abuse in his flat in Llanishen, Cardiff.
Among the catalogue of abuse she endured was being beaten on the stomach while pregnant, as Thomas yelled he would "beat the baby out of her".
Miss Rooks added: "He stabbed me on the back of my neck with a knife. He made me sleep standing up.
"I had family members who had died and he would rip up pictures of them and make me eat them."
Judge Neil Bidder later said it was one of the worst cases of domestic violence he had ever seen.
Last month, the Independent Office for Police Conduct (IOPC) published a damning report about the way South Wales Police had handled the case.
Officers had visited Thomas's flat on two occasions following tip-offs from concerned witnesses.
However, the IOPC said police did not attempt to speak to Miss Rooks in a separate room to her attacker, despite it being their policy to do so.
After learning of Thomas's release on licence, Miss Rooks said she was so scared she has moved house and adopted a new identity.
She added: "My new neighbours don't know who I am and what has happened to me. I feel lonely, but hopefully it will help keep me safe."
Licence conditions
The Ministry of Justice said, under the Criminal Justice Act 2003, most prisoners will be automatically released halfway through their custodial sentence.
"No-one is released from prison without a tough risk-assessment, strict licence conditions and close monitoring," a spokeswoman said.
"Anyone who breaches their licence conditions can face further time behind bars."
A spokesman for the IOPC said two officers were found to have cases to answer for misconduct while the actions of three other officers fell below the standard expected.
South Wales Police and Crime Commissioner Alun Michael acknowledged more needed to be done to tackle all forms of abuse.
He said: "Sadly, this form of harm is still far too prevalent in South Wales, but our approach is one of early intervention and prompt positive action whenever details emerge, with the victim being at the centre of everything we do."