Domestic abuse: 'I had to go but feared leaving my dog'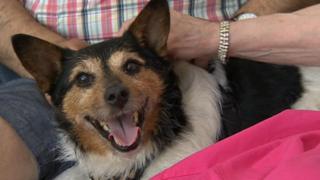 When Jessica was violently attacked by her former partner, she knew she had to move away - but the thought of leaving her beloved dog filled her with dread.
"I had to get away, but I couldn't leave Holly," she said.
It was only after she was told about a new foster service for pets of victims of domestic abuse that she was reassured her dog would be safe.
The service, Help4Wales foundation, said it had been overwhelmed by demand since opening last year.
It has had 150 enquiries about temporary homes in the first three months of this year.
As most refuges cannot take pets, finding a safe place can be a major barrier to women escaping abuse.
Many abusers will threaten to harm or kill pets as a way of controlling their victims and preventing them from leaving.
Domestic violence charities say some women will stay in an abusive home rather than leave their much-loved pet with a violent partner.
Jessica - we have changed her name - suffered a year of violent attacks by her former partner who isolated her from family and friends.
She said he kicked and punched her and threatened to take Holly away.
"I had to get away, but I couldn't leave Holly," she said.
"She knew that something was going on, she was very protective, especially towards the end when things were getting more frequent.
"My support worker told me about the fostering, I took her to my mum's and Jemma picked her up from there.
"We've been in the refuge for seven weeks, both me and the children really miss her, but we know she's safe.
"It was really hard when I had to leave her but at least I know I'm getting her back at the end of all of this.
"Her foster carer is lovely, she sends us pictures all the time.
"I want to get a nice new house and get Holly back, get a nice steady job, some nice holidays for me and the kids and just be happy."
Jemma Shepherd from Caerphilly set up the Help4Wales foundation last year.
The Dogs Trust runs a similar foster scheme in parts of England, as does the charity Cats Protection. But this is the first nationwide pet fostering service in Wales.
Although recently awarded a £10,000 National Lottery grant, it still relies heavily on public donations and the income from a second-hand shop in Caerphilly.
But Ms Shepherd says the service needs more money to pay for veterinary care and food while the animals are looked after for up to a year by one of the 78 volunteer foster carers across Wales.
Sometimes the foundation will buy beds and toys if families do not have time to gather their animal's belongings.
"The demands on us are overwhelming. We're providing such an important service," she said.
"If women are able to place their pets in foster care and leave an abusive relationship quickly, then that's less of a strain on social services, the police and the health service."
Ms Shepherd says she has been forced to turn some animals away and is calling on the Welsh Government to provide financial support.
Irene Davies and her partner Lofti from Cwmbran in Torfaen have fostered seven dogs since the service began.
A lifelong dog lover, she says taking in pets is her way of helping women trying to rebuild their lives.
"The shortest time we've had a foster dog is 24 hours, the most we've had them for is five months. I feel as if I'm doing some good in this world, it's very rewarding," she said.
"I look on it as the same way that foster parents foster children."
The charity Llamau worked closely with Ms Shepherd to set up the fostering service.
Chief executive Frances Beecher says finding foster care for pets can be vital in helping women and their children leave a violent home.
"Finding somewhere safe for a pet can be a huge barrier," she said.
"We have cases where older children are refusing to leave the home because they're scared of what might happen to their pet," she said.
"89 per cent of domestic abuse relationships involve some kind of harm or trauma to the family pet.
"Knowing that by leaving the home, the animal could die, very often women will say 'I can't leave the pet'.
"We've had dogs, we've had cats, we've had rats, we've had snakes and for the children and young people, knowing their animal is being looked after, to be able to write to them, to get photographs, it makes a huge difference."
'Illness or emergency'
The Welsh Government said: "We encourage Help4Wales to contact the Wales Council for Voluntary Action to help identify funding sources."
It said it provided almost £2m to regional violence against women, domestic abuse and sexual violence partnerships across Wales who in turn commissioned services "based on need in their areas".
"We will be working with the Animal Welfare Network Wales to explore what veterinary provision, assistance and advice is available to people who need help in caring for their pets," a spokesman added.
"This could be in times of illness or emergency, such as fleeing from a violent household."