Fracking plans face cold shoulder under new Wales policy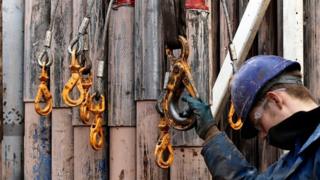 Future applications from developers wanting to drill for oil and gas in Wales will not be supported, ministers have confirmed.
The Welsh Government has set out an updated policy on petroleum extraction, which includes fracking.
It comes ahead of the devolution of powers of consent for licensing new developments to Cardiff Bay in October.
The Welsh Government has opposed fracking for several years, with a "moratorium" in place since 2015.
The controversial technique is designed to recover gas and oil from shale rock, which is fractured by high pressure drilling and injecting of water, sand and chemicals.
Petroleum licences, issued by the UK government over the last 30 years, give a developer the exclusive rights to explore for and develop oil or gas in a particular area.
In stating that it will not undertake any new licensing in Wales, the Welsh Government says it will be taking "a small, yet important step towards a decarbonised future".
A consultation on the proposals runs until the end of September.
You might be interested in these stories:
The fracking moratorium meant councils minded to approve applications for drilling had to refer them to the cabinet secretary for energy, planning and rural affairs.
But some have argued ministers did not have the power to stop developments from going ahead until now.
In Scotland, a petrochemical firm last month lost a legal challenge against the government's "effective ban" on fracking after a judge ruled it was not a ban although there was an ongoing moratorium preventing it.
But an exploratory drilling licence has recently been given the go ahead in south Yorkshire.