Subsidy for Cardiff-Anglesey air link almost doubles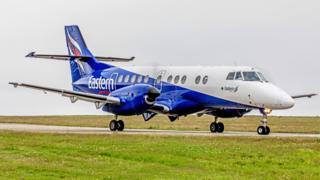 The amount of subsidy given by the Welsh Government towards the Cardiff-Anglesey air link almost doubled last year.
Figures obtained by BBC Cymru Fyw show the service received almost £2m of taxpayers' money in 2017/18.
But in the last year the number of passengers using the service rose by over a third.
The Welsh Government said the increased subsidy was caused by the "emergency" change of operator.
It was forced to reach an agreement with Eastern Airways to save the link after the operator Citywing went into liquidation in March 2017.
Eastern Airways took over the route in conjunction with Flybe, based on a one-month rolling agreement.
In May the Economy and Transport Secretary Ken Skates announced a tender process for a new long-term operator.
But last month a request by the Welsh Government to increase capacity on the route was rejected by the UK government.
It had hoped security regulations could have been relaxed at RAF Valley to allow larger 30-seat planes.
The figures released through a Freedom of Information request show that the Welsh Government spent £1.88m on the service last year, compared with £1.08m the previous year.
The number of passengers on the service also rose following Eastern's takeover - from 10,039 the previous year to 13,845 people flying in 2017/18.
That means the cost of the subsidy rose from £108 per passenger to £136 last year.
A Welsh Government spokesman said: "The increase in the financial support for 2017/2018 is due in part to the contract being awarded as an emergency procedure following failure of the previous operator and in part due to the new and current airline providing a significantly enhanced service with a larger aircraft and a mature ticketing distribution network.
"These enhancements have proven popular with passengers and Eastern Airways has been successful in growing the route significantly."
The increased subsidy has been criticised by the Welsh Conservatives.
The party's spokesman on the economy and transport, Russell George, described the subsidy as "completely unacceptable".
"Millions of pounds of tax payer's cash is now being spent to prop up this service - money which could be much better allocated to other more commercially viable air links or improving road and rail infrastructure throughout north Wales and beyond," he said.