Ex-Coronation Street director Terry Dyddgen Jones dies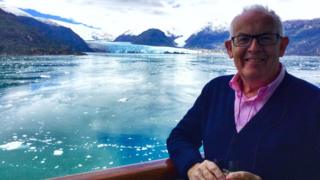 TV director Terry Dyddgen Jones, most famous for shooting more than 200 episodes of Coronation Street, has died at the age of 67.
Originally from Carmarthenshire, Mr Dyddgen Jones was also known in Wales for directing Parch, Byw Celwydd and as senior producer on Pobol y Cwm.
He died at Velindre Hospital, Cardiff, on Wednesday after a short illness.
Colleagues described him as a "notable director who contributed so much to the television of Wales and the UK".
Most recently, he was responsible for directing part of the S4C drama The Rev.
The show's writer Dr Fflur Dafydd, said: "It was a privilege to have Terry in the Parch family for the last two years.
"He was very a loveable person."
Tributes were also paid by Coronation Street stars - such as Sally Dynevor, who played Sally Metcalfe, and Catherine Tyldesley, who played Eva Price.
Before starting his soap opera career, Mr Dyddgen Jones was an in-vision continuity announcer for HTV, now known as ITV Wales and West, before going on to become a senior figure in production of Welsh language drama for the station.
He first stepped onto the cobbles of Coronation Street in 1997, and continued to work on the ITV show for 17 years.
In that time, he also directed scenes in EastEnders, Emmerdale, Heartbeat, and Hollyoaks.
Earlier this year, it was announced he would be honoured at the Cardiff National Eisteddfod.
---
Analysis from Huw Thomas, BBC Wales Arts and Media correspondent
"Coronation Street viewers will recognise the name - his was the last to appear on screen after the opening titles rolled on countless episodes from 1997 until 2014.
"He must have been among the soap's longest-running directors, a man skilled in telling the stories of Wetherfield and turning the dialogue and drama of Corrie into a TV routine for millions of viewers across the UK.
"His death, which was announced today, will be met with sadness in the Welsh TV production community too, where he was a fixture on Pobol y Cwm for decades.
"First as an actor, and then more prominently as a producer and director, he became synonymous with the Welsh language soap, and it was a series that remained close to his heart as he moved on to work at Corrie, Eastenders and Hollyoaks.
"He told me in 2014 how Pobol y Cwm wasn't just a TV institution but also a vital machine in the promotion of Welsh, the TV embodiment of a living and evolving language.
"He became a mentor, too, with his impact on younger TV crews evident in the fond memories being shared today at the news of his passing."
---
Amanda Rees, S4C's Director of Creative Content, said the channel was incredibly fortunate to work with Mr Dyddgen Jones.
"He showed a particular generosity in sharing his ideas and was at the heart of many of our most successful drama series," she added.
"The creative industries in Wales and the United Kingdom will be so much the poorer without his passion and enthusiasm for creating popular drama of the highest quality."