Greenhouse gas emissions rise in Wales 'due to power stations'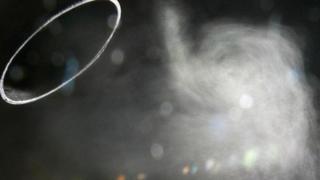 The latest progress report from government climate change advisors shows greenhouse gas emissions increased in Wales by 5% in 2016.
The Committee on Climate Change said this was mainly due to a large increase in emissions from power generation.
Emissions rose in farming (5%), non-residential buildings (5%), residential buildings (2%) and transport (2%).
Environment and clean air groups called for urgent action while ministers said emissions were "volatile" in Wales.
In 2016, they only fell in industry (-9%), mostly driven by an 11% drop from Port Talbot steelworks.
Emissions in the waste sector were flat.
Welsh emissions have risen gradually since 2009 and the committee repeated its warning that a target for a 40% reduction from 1990 levels by 2020 was "very likely to be missed".
So far, emissions have fallen 14% in Wales since 1990.
More than a third of emissions come from the power sector.
These are 44% higher than 1990 levels, having increased by an average of 5.3% a year in the seven years to 2016. They rose 22% in Wales over the year while at the same time power sector emissions fell by 68% in Scotland.
You might be interested in these stories too:
Step forward in technology 'to remove CO2 from air'
Emission targets 'highly challenging' for Wales
Renewable projects 'stopped in their tracks'
End of the line for Welsh coal at Aberthaw power station
But Wales has met its 2020 target to generated 7TWh of renewable electricity - three years early.
It now accounts for 7% of the UK's renewable generation.
Joseph Carter, chair of Healthy Air Cymru and also a spokesman for the British Lung Foundation said the emissions rise was "shocking" and called for a Clean Air Act as a matter of urgency.
"This report is a wake up call to the Welsh Government," he said.
"Our communities need our leaders to go further, be faster and be bolder in their plans to tackle emissions. Air pollution has been linked to heart and lung disease, and is a major public health issue. We need to clean up our air now - for our health and our planet."
Jessica McQuade, policy officer at WWF Cymru, tweeted: "Wales worst performing nation in the UK on emission reduction. More needs to be done for future generations."
Environment Secretary Lesley Griffiths said while she was disappointed with the 2016 figures, it was important to acknowledge the "different challenges and opportunities we face" compared with the rest of the UK.
"Historic trends show emissions are disproportionately volatile in Wales," she said.
"Nearly 60% of our emissions come from heavy industry and electricity generation. Despite the impressive growth in renewable energy generation, a large proportion of energy produced in Wales is generated from fossil fuels."
She said the figures reinforced the importance of setting targets and "a clear pathway for decarbonisation," with a consultation due to be launched in July.
The aim is for a 27% reduction - based on 1990 levels - by 2020, a 45% reduction by 2030 and 67% by 2040.