National tests bordering on 'child abuse' claims head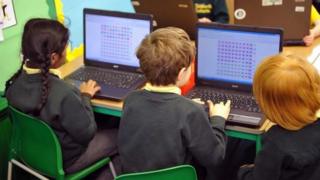 National tests are "bordering on child abuse" because of the emotional effect on some pupils, according to a primary school head teacher.
Nia Guillemin said the literacy and numeracy tests should be stopped because the "price is too high".
Pupils aged between six and 14 years old sit the annual tests in May.
The Welsh Government said the tests should not lead to stress and that improvements are already planned.
But the head of Bethel Primary School near Caernarfon, Gwynedd, told BBC Radio Cymru's Manylu programme: "This is bordering on child abuse.
"I say that because of the obvious emotional effect on a large number of these children.
"There are children coming to school with serious emotional problems and they can't cope with the change in the routine.
"I've seen high achieving children so worried they're crying, breaking their hearts, belly-aches - young children wetting themselves in the middle of a test because they're worried."
She said the testing regime is "cruel" and does not reveal any new information to teachers who constantly assess their pupils.
Education Secretary Kirsty Williams told the programme she recently visited a school where the children were unaware they were even sitting the tests and the pupils felt no anxiety.
Responding to the claims made by the head, she added: "They should not be like that. I want children to be happy in school.
"If children are upset and feeling sick then they're not going to do their best so I would have concern that any child would be put in that situation when about to do their literacy and numeracy test."
But one classroom assistant who has worked at several schools also described the tests as a waste of time.
The assistant, who has not worked in the Bethel school, said: "I've seen teachers point towards an answer and shake their head, because they want those children who they've put into the higher tier to come out well in the tests and they think it looks bad on them if they don't.
"I've also seen teachers - whilst giving advice on some questions which crop up in the tests - coaching the children very keenly, giving past papers over and over for weeks before the tests.
"Parents come in saying their children don't want to come to school, that they're crying and stuff."
But the education secretary rejected criticism of the tests and claims that schools were being assessed on them.
"I've been absolutely clear, we do not use the literacy and numeracy tests to judge the performance of schools," said Ms Williams.
"They are a form of assessment so that we know where each individual child is and the next step of their education can be informed by those scores."
She added that the government was already making changes to the system which may address some of the concerns.
Rather than having one paper for all children, whatever their abilities, next year they will introduce online tests. The questions will vary according to the pupils' abilities - which will give better information about each pupil, whilst also reducing any pressure some may feel.
Manylu is broadcast on Radio Cymru on Thursday, 28 June at 12:30 BST and is also available on the BBC iPlayer.