Social care in Wales 'could be funded by age-related tax'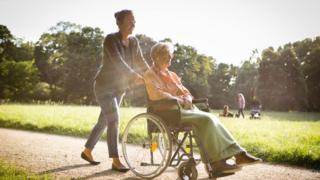 An income tax increase of between 1% and 3% could be used to fund elderly social care in Wales, according to an independent report.
Economist Prof Gerald Holtham said the tax would need to vary depending on age and income to ensure fairness.
Initially it could mean people in their fifties would pay four times more than those in their twenties.
The Welsh Government said the report would form part of ongoing work to examine future funding of social care.
Prof Holtham's report, commissioned by the Welsh Government, looked at how social care could be paid for in Wales and not what should be offered in terms of care.
He said demand for social care will increase but that an unfair burden must not be placed on younger generations in order to subsidise the elderly.
"The steep rise in house prices and the ending of free higher education has left younger generations no better and sometimes worse off than their elders were at the same time of life," he said.
"There is an argument therefore for levying tax rates that depend on age cohort as well as income.
"Doing so could improve intergenerational fairness and it would mean that people pay more at a time of life when they are more conscious of the need to make provision for old-age care."
How could it work?
Prof Holtham has suggested that the social care element of income tax would depend on your age when you start paying.
The people in any given age group would pay at the same rate throughout their contributing life.
The younger you are when you start paying, the lower the rate would be to make up for the fact you are paying for a longer period than someone older than you before hitting the state retirement age of 67.
The report also supported ring-fencing the extra tax collected specifically for social care, because the evidence showed that generally people were willing to pay more taxes if they knew exactly what they would get in return.
This fund would meet immediate need while ensuring there is enough money for the increase in demand in the future.
In 2016, the Health Foundation estimated pressures on social care in Wales would rise by about 4.1% a year at least until 2030 due to population changes, the nature of complex and chronic conditions and rising costs.
As it would be a contributory fund, it would need to track people coming in and out of Wales and how much they are paying so that people who choose to retire in Wales could not access services "for free" without contributing towards them.
The report comes after MPs said a new tax for people aged over 40 in England should be introduced to help pay for elderly care there.
Under current laws, councils may charge for residential care in a care or nursing home, or non-residential care - also known as home or domiciliary care.
What do we pay now for non-residential care?
If you're being cared for in your own home, the most you'll have to pay is £80 a week.
If you have less than £24,000 savings (not including the value of your home) you could pay less.
However, this follows an assessment of need by the council so they will decide whether and how much care is needed.
Everyone has a right to have their needs assessed.
Once an assessment has been made, you can either receive council-commissioned services or pick your own services, paid for by direct payments, to you or a relative, from the council.
What about care or nursing homes?
People with assets of more than £40,000 (including the value of your home if no-one is living there) pay the full cost of care in a home. But if you do not have that much money then you can receive financial help depending on your income.
That limit will increase to £50,000 by 2021.
People who need an element of nursing care for a "health need" can get a contribution from the NHS towards their costs.
Other individuals with complex primary healthcare needs, rather than a residential requirement, can be eligible for all their fees being paid by the NHS under a scheme called Continuing Healthcare.