Wales heatwave: head teachers told rethink uniform policy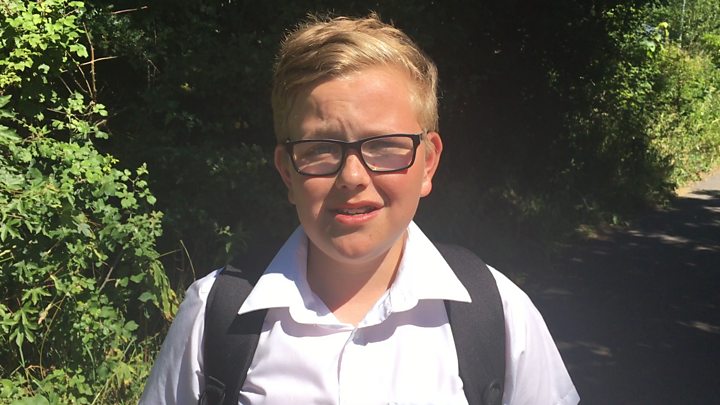 Head teachers have been urged to relax rules on school uniforms as a heatwave continues to grip Wales.
Temperatures this week have soared as high as 30.6C and more sunny conditions are forecast.
But parents claim schools are too strict with uniform policies, banning boys from wearing shorts and telling girls to wear skirts or trousers.
Education watchdog Estyn said uniform policy was a matter for individual schools.
Earlier this month, a male sixth form student in west Wales hit the headlines when he wore a skirt to lessons after being sent home for wearing shorts.
Retired teacher and education commentator Dr Graham Lawler said a rethink was needed.
"If a head teacher is considerate they will relax the rules - but if they are not then that can cause problems for teachers as well as pupils," he said.
"In a lot of workplaces employers have to ensure their staff have the appropriate attire for the conditions.
"But in some schools you have boys being told to wear what essentially is their winter outfit in hot temperatures."
Parents of pupils at Cowbridge Comprehensive School have voiced their anger, claiming boys have been told they must wear trousers and girls are not allowed to wear shorts in classes.
Mother Victoria Barker said: "If they were adults they would be protected against having to wear inappropriate clothing in the work place once the temperature hits 24C. But as children they have no such rights."
A Cowbridge comprehensive spokeswoman said pupils had access to air conditioned rooms and shaded areas across the site.
"Temperatures have been monitored carefully and we are pleased that all areas within the school are reasonably comfortable, assisted by a welcome breeze and additional mobile air conditioning units," she said.
"This means that we do not need to introduce an alternative uniform."
You may also be interested in:
Dr Lawler, of Abergele, said the school's rules on uniform could also disrupt teachers.
"I worked at a school in north Wales which was strict about its uniform policy and there would be two or three times a day when a pupil would have to be sent home," he said.
"But when I worked at a school in Leicester where uniform was not compulsory, I think there were only two or three occasions in the eight years I worked there where a pupil had to be sent home because they were not dressed appropriately.
"The whole system is outdated anyway. There's no evidence that a child will perform better because they are wearing a uniform."