Porthmadog is hottest part of UK as tarmac melts in the sun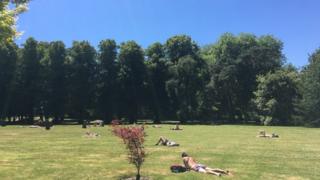 Wales is officially the hottest part of the UK, with a road even having to be closed due to tarmac melting - four months after it was shut due to snow.
Temperatures soared to 30.6C (87.08F) in Porthmadog, Gwynedd, on Tuesday, the hottest temperature recorded in the UK.
Meanwhile, Hawarden, Flintshire, was basking in heat of just under 30C (86F).
The Met Office said it was the hottest day of the year so far and the highest temperatures in Wales since June 2017.
And it is predicted the hot spell could continue all week, with people being warned to stay safe in the sun.
Met Office spokesman Grahame Madge said: "We are likely to see these temperatures continue until Saturday.
"There may be thundery conditions on Sunday with a possible return to hot weather at the beginning of next week."
But with high or very high UV levels during the warm spell, the Met Office is warning people to "take care" while enjoying the sunshine.
It has warned people to take extra care to protect babies, children and the elderly from the rays and to protect their skin against burning.
In North Wales, police have closed the A543 between Pentrefoelas and the Sportsman's Arms due to the tarmac melting in the heat - just months after it was closed due to heavy snow.
In Penarth on Monday evening, coastguards and police responded to reports of 35 young people seen jumping into the water at Mount Stuart Graving Docks in Cardiff Bay. The group were advised of the dangers and asked to move on.
Network Rail said it was keeping an eye on tracks across the Wales and Borders franchise, which can expand and buckle as they heat up, causing travel disruption.
A spokesman said: "If a section of track is judged to be at risk, we introduce speed restrictions - slower trains exert lower forces on the track and reduce the chance of buckling."
Welsh Water has urged people to think about their water usage, urging people not to waste water, despite there being no current concerns about availability.
Meanwhile, the RSPCA urged pet owners and farmers to keep their animals cool.
RSPCA Cymru Supt Martyn Hubbard said: "There is a very serious side to keeping pets cool over summer as animals can suffer from heatstroke which could be fatal, especially if left in a hot car, conservatory or caravan.
"Pets may struggle to realise when they are too hot, so make sure they have constant access to shade and don't over exercise them in the heat. Remember if the pavement is too hot for your hand then it will be too hot for their paws."