Accident and emergency waiting times improve in Wales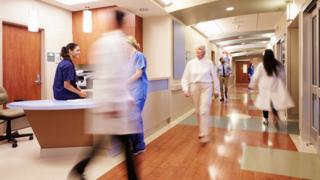 Waiting times in accident and emergency units at hospitals in Wales have improved over the month.
More patients were seen in May within both the four-hour and 12-hour targets, according to latest figures.
Numbers waiting more than 12 hours in A&E fell by a quarter but more than a fifth of those still facing long waits - 644 patients - were at Glan Clwyd Hospital in Denbighshire.
There were 1,266 more calls to the ambulance service.
However, it remained on target for responses.
Under A&E targets, no patient should wait more than 12 hours and 95% of patients should be seen within four hours until admission, transfer or discharge - a target which has never been met.
Although 82% of patients were seen within four hours in May - an improvement on April - this is the lowest proportion for this month on record. It is also the worst May on record for the proportion waiting more than 12 hours.
A total of 2,827 patients still faced waits of more than 12 hours; Glan Clwyd in Denbighshire had by far the highest number followed by Morriston in Swansea (468) and Withybush (204); the University Hospital of Wales in Cardiff had only 26 patients waiting this long.
Conservative AM for Clwyd West Darren Millar said north Wales residents were not getting the health service that they deserved.
"Whilst services are far from perfect in the rest of Wales, Betsi Cadwaladr is the worst performing health board on a range of measures," he said.
There were more than 3,000 patients attending A&E each day across Wales and patients could expect on average a wait of two hours, 14 minutes.
The figures also show:
The number of people waiting more than 14 weeks for therapy services has increased
Including extra cardiac tests has been attributed for a rise in patients waiting more than eight weeks for specified diagnostic services.
The percentage of patients waiting more than 36 weeks to be referred to treatment has increased over the month. There were 14,797 patients waiting more than nine months to start treatment, although this is 22% less than in February.
The ambulance service responded to 76.1% of "red" calls within eight minutes; the target is 65%. It received 1,946 calls graded this way out of 39,258 emergency calls.
But cancer charity Macmillan Wales criticised figures which showed that 100 patients still faced a "heart-breaking wait" in April for cancer treatment to begin, which did not meet targets following diagnosis.
"When it comes to cancer, good patient care starts with earlier diagnosis and more timely treatment - only then will we be able to deliver the improved outcomes we all wish to see for everyone affected by cancer in Wales," said Richard Pugh, head of services.
The figures show 85.5% of cancer patients started treatment along the so-called urgent route - below the target of 95%. These are usually patients referred for treatment by their GP.
The target for cancer patients on the non-urgent route - often picked up during other treatment in the healthcare system - was very nearly met with 97.5% starting treatment within the 31-day target time.
Health Secretary Vaughan Gething announced £30m extra funding for health boards on Wednesday to bring "significant improvements" in waiting lists across Wales.
The money will tackle referral to treatment, diagnostic and therapy waiting times up to March 2019.
Mr Gething said as well as a long term vision for less reliance on hospitals in the short to medium term there was "also need to find new ways to reduce waiting times for patients who have already waited beyond our targets".
However, more than £13m was withheld from three health boards who failed to meet waiting list reductions last year.
If you can't see the tracker, click or tap here.