Rhyl care home residents 'ate soap' and cleansing chemicals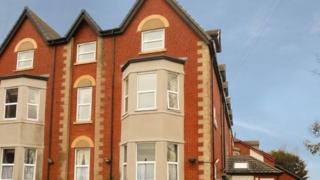 Residents ate soap after it was not stored properly at a Rhyl care home, inspectors have said.
Property was also damaged and there were altercations after bedroom doors of dementia sufferers were left open.
Residents at Canterbury House, Dyserth Road, were "not protected from abuse, harm or neglect", according to a Care Inspectorate Wales (CIW) inspection report.
The home's owner, Akari Care, has been asked to comment by the BBC.
There was an "unacceptable risk" to patients found during March's unannounced inspection, with the findings just published.
A staff shortage was highlighted, with no registered manager and two nurses often covering three floors in a home able to accommodate 51 people over 55 years old.
One resident, seen as being at a high risk of falling, had done so seven times in one day.
Other issues included no investigation after a resident was injured and two incidents regarding staff conduct the inspectorate was not notified about.
The home was described as having a heavy reliance on agency staff, with records often "unclear and disorganised", and residents not receiving "the right care at the right time".
There was an "incident where a resident had eaten cleansing products (soap)" in January, with two others over the following weeks.
The report read: "Fortunately each person suffered no ill-effects.
"However, systems must be in place to ensure all chemicals are stored securely to minimise further risk to people's safety."
Inspectors said action was being taken to improve issues but it was concerning they were not identified sooner.
They concluded there had been a "negative effect" because of the lack of a registered manager to provide leadership and direction for staff, and also the lack of support from the registered provider.
Following the report's publication, the inspectorate said Akari agreed to place a voluntary embargo on future admissions until the service was more stable.
Akari Care is based in Leeds and has 35 care homes across the UK, with most in the north-east of England.
The company employs 2,200 staff looking after 1,700 beds.