Pregnant Bridgend mother killed by 'distracted' M4 driver, court told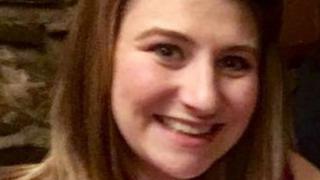 A driver was speaking on a hands-free mobile phone seconds before he crashed into a car on the M4 killing a heavily pregnant mother, a court heard.
Rebecca Evans, 27, from Bridgend, was eight months pregnant when she died at the scene of the crash near Port Talbot in 2016.
Her two-year-old son, Cian, was also seriously injured.
Craig John Scott, 51, of Cardiff, denies causing death by dangerous driving.
He also denies causing serious injury by dangerous driving. He had previously pleaded guilty to the lesser charge of causing death by careless driving.
Ms Evans was a front seat passenger in the car her husband Alex was driving when the crash happened at about 08:00 GMT on 29 November 2016, Swansea Crown Court heard.
The couple were on their way to drop off their son - who was in the back of their Peugeot 407 - with his grandmother, before heading to work at the homeless charity Shelter Cymru.
Mr Scott failed to notice them slowing down and stopping on the westbound carriageway and crashed into the back of their car at 70mph, jurors were told.
Cian was airlifted to University Hospital Wales where he was found to have bleeding between his brain and skull, a depressed skull fracture and fractures to both legs.
Ms Evans was pronounced dead about 45 minutes after the crash.
Mr Scott had told police he had been on his way to work and was distracted by something on a bridge above the motorway.
He said he had finished a hands-free call with his employers five minutes earlier, but officers discovered he finished the call 14-34 seconds before the collision.
Catherine Richards, prosecuting, said: "He was quite simply avoidably and dangerously distracted."
Mr Scott claimed he had braked when he saw the Evans's Peugeot ahead of him but knew it was too late to stop.
The trial continues.