More bikers already killed in north Wales than in 2017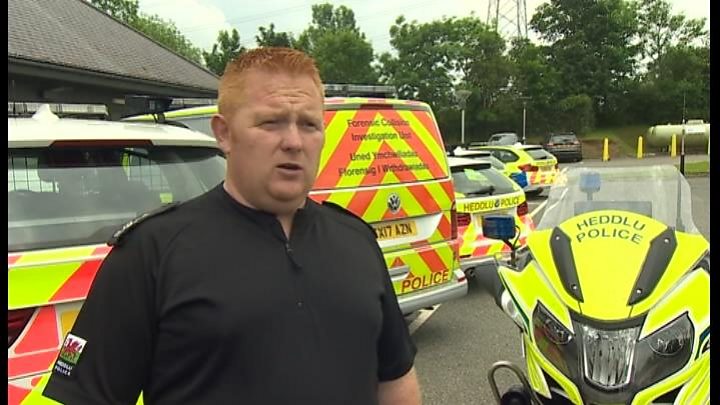 More motorcyclists have died on north Wales' roads so far this year than in the whole of 2017.
The death toll for 2018 reached eight after rider Gareth Wyn Roberts, 53 from Holyhead, was killed in a collision in Trearddur Bay, Anglesey, on Wednesday.
Seven motorcyclists died on roads in the north in 2017, and eight died in 2016.
North Wales Police said it would send more police officers out to speak to bikers in the coming weeks.
To highlight the issue the force released the transcript of an anonymous call they received from the partner of a biker urging officers to stop him from racing.
'Please stop them'
The woman said: "My partner is a biker and is visiting north Wales this weekend and already boasting that he will be doing over a ton whenever he can.
"I know where they are starting from. Please, please try and find and stop them. We have children and I would rather him banned or in jail than dead. I am sorry to put this on you as I know you are already overworked."
Sgt Trystan Bevan of North Wales Police said the death toll of eight by late May was a cause for "concern".
Asked why so many have died, he said: "You have to look at everything, to be honest, but one of the main reasons is that north Wales is very popular and its beauty attracts many people here...
"And the good weather has meant that more people than usual have come to visit our area."
While acknowledging that some police officers "work very hard to speak to motorcyclists", road safety consultant Tom Jones said the police could do "more than just instil fear".
"They could talk more with bikers," he said, adding: "We need road safety courses to be available, ones that don't look down on bikers."
But Sgt Bevan defended the police's motorbike safety campaigns, saying they had been successful.
He said more officers would be out and about over the next months to emphasise road safety for motorcyclists.
"We'll be sending more vans out to make sure people stick to the rules of the road, and we'll try to talk more [to bikers]," he said.