Urdd Eisteddfod crown winner too unwell to attend ceremony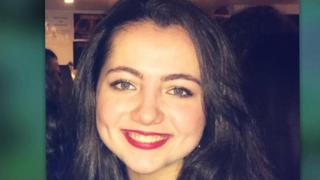 One of the most prestigious prizes at this year's Urdd Eisteddfod has been presented without its winner - because a rare medical condition meant she could not attend.
Sioned Erin Hughes, 20, from Boduan near Pwllheli in Gwynedd won the crown for her short story about terrorism.
The audience was told the Bangor University student has the rare muscle condition myasthenia gravis.
It meant she had to watch the ceremony at home with her family.
Ceremony master Elin Havard said another ceremony would be organised once her condition had improved.
"This has been a different ceremony to usual, but the honour remains the same. When Erin's health has improved, the Urdd will be organising another ceremony to honour her," she said.
Myasthenia gravis most commonly affects muscles that control the eyes, facial expressions, chewing, swallowing and speaking.
The 2018 Brecon and Radnorshire Urdd National Eisteddfod has been held all week at the the Royal Welsh showground in Builth Wells, Powys.
Along with the bardic chair for poetry, the crown is regarded as one of the main awards at what is one of Europe's largest youth festivals.