KeolisAmey reveal new-look Wales trains and services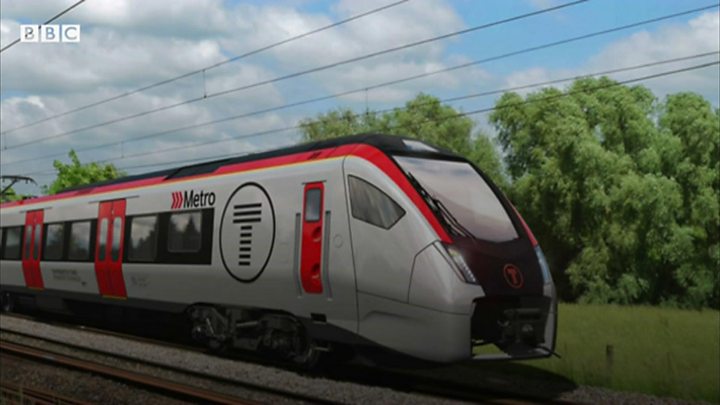 The new operators of Wales and Borders rail services have unveiled their plans, promising to spend £800m on new trains and to increase capacity by two thirds.
KeolisAmey, who won the £5bn bid last month, says 95% of journeys will be on the new trains within five years.
It also announced four new Cardiff light rail stations as part of the South Wales Metro.
An extra 600 staff will also be recruited, the company said.
The French-Spanish joint venture will take over operations from Arriva Trains Wales for the next 15 years from October.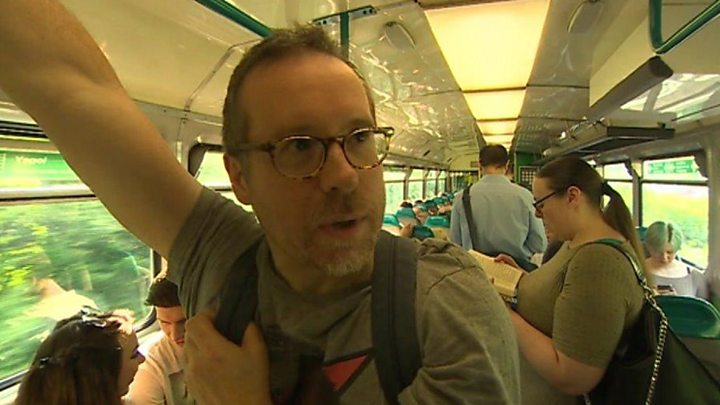 New trains and light rail cars will be in red and black colours - and carry Transport for Wales (TfW) branding, not company logos.
First Minister Carwyn Jones called it a "landmark moment in the future development of Wales".
Announcement highlights and what it all means:
The new network map, including the proposals for the South Wales Metro, was released at a launch in Treforest.
The new operators emphasised the changes would not happen overnight and Wales' railway "would be unrecognisable" in five years.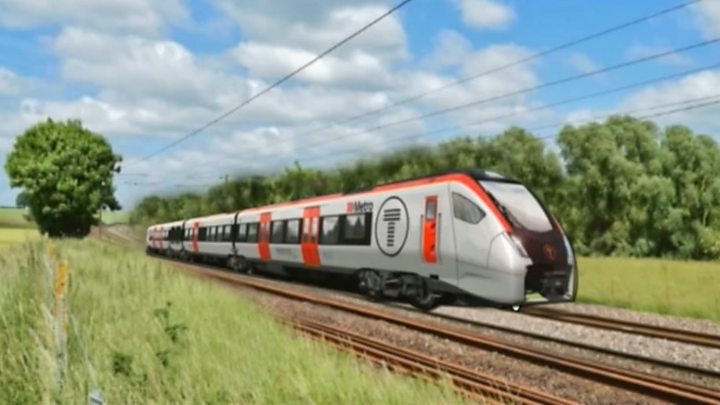 The Metro element will use "tram-train" technology, with light rail cars which can operate on conventional rail as well as in electric tram mode, while tri-mode trains will combine low-emission diesel, battery and 25kV electric power.
A "smart" electrification programme will need less disruptive civil engineering work and only one bridge in the Rhondda will need to be lifted.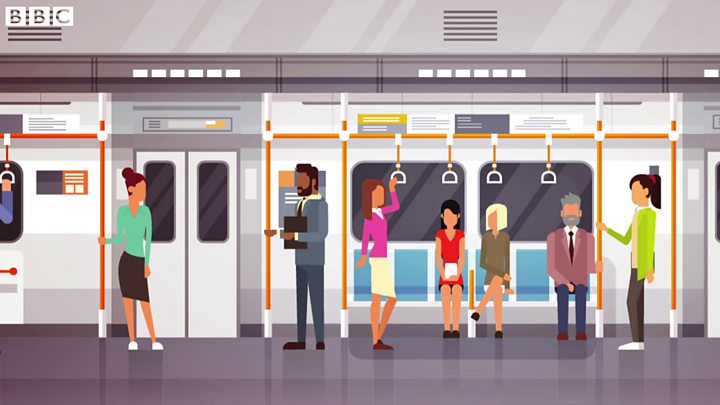 You might be interested in these stories too:
KeolisAmey have to deliver the long-promised South Wales Metro - improving public transport links between Cardiff and the south Wales valleys and beyond - as part of the contract awarded by the Welsh Government.
It includes taking more than 124 miles of the valleys lines from Network Rail.
But it was also challenged to bring in newer trains, solve overcrowding issues for commuters and deal with the expected continuing rise in demand.
The first minister said: "People said they wanted affordable fares and newer, cleaner trains and we have worked hard to ensure this is reflected in what we are launching today."
Wales rail investment
2018 to 2033
£800m investment in trains

£194m to modernise 247 stations and build four Metro stations

285 extra services Monday to Friday

294 extra Sunday services
Welsh Secretary Alun Cairns said: "It is important that future investment provides visible and practical improvements to the rail travel experience on a franchise with the potential to grow transport links between England and Wales."
KeolisAmey already runs Greater Manchester Metrolink and London's Docklands Light Railway, among others.
Analysis by Sarah Dickins, BBC Wales economics correspondent
Will passengers notice a difference? In theory they will. The process set up by TfW put passengers at the centre of the contract. It knows customers want clean trains that run on time and where you can get a seat.
TfW also wants to get more of us out of our cars and using public transport, cycling and walking.
Pricing is important too. Ticket prices will only be able to rise in line with inflation but will that be enough to tempt us out of our cars? As a generation we have become used to enjoying our own space and the convenience. It will be a big challenge.
While TfW is a so-called "not-for-profit" company, the operator KeolisAmey is not.
Arriva Trains Wales (ATW) made a profit of £27.5m in 2017 and paid £20m in dividends - that will be a thing of the past.
But TfW will cap KeolisAmey's profit and plough extra money back into paying for new developments.
This franchise is about much more than the South Wales Metro. TfW is very clear that the operators have to service all of Wales and make sure it is connected in a better way.
This is set against a background in parts of England, with Northern rail bosses apologising for cancelling "far too many trains" and the transport secretary accusing the industry of having "collectively failed" passengers after recent timetable changes.
KeolisAmey's contract is very clear - if it does not deliver the service it will not be paid. This covers cleanliness, quality of service, punctuality and even whether stops are skipped - all frustrations that have been brought up by passengers.
The plans include assembling trains in Wales - Economy Secretary Ken Skates has said he wants to "maximise the economic development opportunity" from the franchise.
Spanish train manufacturer CAF has already unveiled plans to build a factory in Newport, creating 300 jobs and has now been confirmed as the preferred bidder for the work.
"We look forward to working with the company and playing our part in its commitment to transforming the railway and supporting the growth of the local economy and improving the environment," said its UK director Richard Garner.
Earlier this year, it hosted a suppliers' day in the city, with more than 80 local companies represented.
Alistair Gordon, chief executive of Keolis UK, said: "For too long the railways in Wales have suffered from under investment and, while the changes we need to make will take time, we are creating a platform for future economic growth and prosperity that will benefit all of Wales now and for generations to come."
James Price, chief executive of TfW added: "This is more than a significant investment in rail services, it's also an investment in the future prosperity of Wales."