Man filmed appearing to bite off live pigeon's head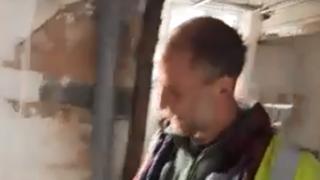 The RSPCA has launched an urgent appeal for information after a video emerged online showing a man biting off the head of a live pigeon.
The footage shows a man catch the bird by hitting its nesting place at a building site with a stick, before appearing to bite its head clean off.
It has been suggested that it could have been filmed in the north of England or Wales.
The RSPCA described the video as "shocking, disturbing and distressing".
The video appears to show the man spit out the pigeon's head, before parading the bird before his laughing friends as it still flaps its wings.
The RSPCA said the bird would have been in "unimaginable" pain if the footage is accurate.
It is calling for the man in the video to be identified and anyone with information to come forward.