John Charles's widow speaks of his dementia struggle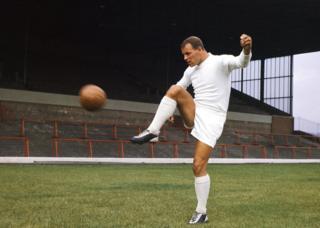 The widow of football legend John Charles has said her husband would have carried on playing even if he had been told it would have made him ill.
Wales, Leeds and Juventus star Charles died in 2004, aged 72, of cancer complications.
Speaking for the first time about his struggles with dementia his widow Glenda said nothing would have stopped him playing.
"He'd have done it anyway. He just lived for football," she said.
She spoke out as a leading Welsh psychiatrist, from Charles's home city Swansea, claimed a possible link between dementia and football is being "swept under the carpet" by the game's authorities.
The Football Association (FA) has said studies so far are "inconclusive" but it wants to understand potential risks.
Glenda first noticed John had started forgetting day-to-day things when he was 65, and she said she never linked his condition to his football career at the time.
Charles, with his heading ability, pace and strength was a true all rounder - equally adept as a central defender and striker.
"John had a mark - slightly raised on his forehead, in the centre - and that was from heading the ball," said Glenda at their home near Leeds.
"It's got to have some impact hasn't it? I'm sure it could have been that.
"When John played, the ball was much heavier, it was a big leather ball, so to me it's obvious it did something to the player."
As for the possible dementia link, Glenda said: "It's only when you look back that you think about these things and realise it's quite possible."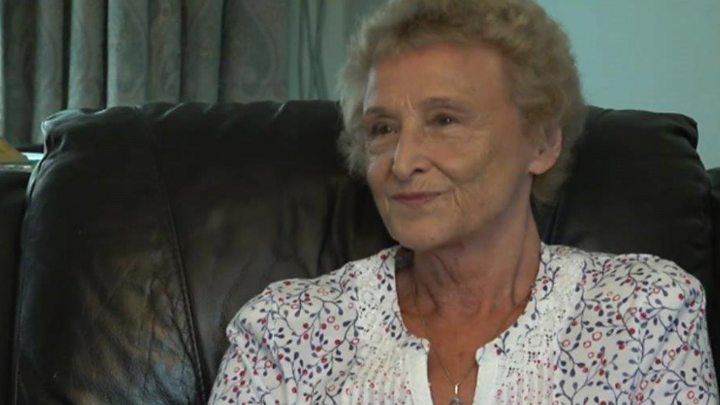 Glenda said she first noticed the first signs of problems when John started having difficulty with simple things.
"When he got to about 65 it became more noticeable. I'd go out and leave him something for lunch and when I'd come back it would still be there. He'd seen it in the kitchen but forgotten I'd told him it was his lunch.
"Normal day-to-day things he'd be confused, and he wouldn't show any interest.
"But he never forgot nothing about football. They could ask him 'John do you remember this game' and he'd remember it, it was just there in him and he could remember every detail. It used to amaze me how he could recollect things."
"It was hard but he then started with other problems and then intermingled. He then started to be poorly."
John Charles
Career in numbers
715 club appearances, including Leeds, Juventus, Roma, Cardiff and Hereford

38 caps for Wales from 1950 to 1965

£65,000 transfer fee to Juventus, a record in 1957

385 career goals
Reg Birkett/Getty Images
Glenda said Alzheimer's was "in a way blessing" near the end when he became very ill with cancer and its complications and did not know what was going on.
It comes as Dr Don Williams, who led the first studies into the possible link between football and dementia, said it was a "big problem" in the sport.
The Football Association says studies so far were "inconclusive" but it wants to understand potential risks.
Glenda believes the link between football and dementia should be looked into more.
"A professor approached me years-ago about it. I didn't do anything about it because I didn't think it was relevant.
But she said she would not want to see the game changed.
"There's always going to be something when sportsmen are playing, whether injuries to the body or brain," she said.
"It doesn't make me feel sad or any different towards it because it didn't matter to him, If someone had told him he'd get serious illness from playing football, it wouldn't have made any difference to him. He did what he loved and what was in him. He'd have done it anyway. He just lived for football, he didn't know anything else."
Charles - who played more than 300 games for Leeds in two spells and five years in Italy - has a stand named after him at Elland Road and is still idolised in Turin.
It is 60 years next month since he appeared for Wales in the World Cup in Sweden.
"He had a fantastic life when he played football and with all the people around him who absolutely adored him," said Glenda.
"He was always so modest, he couldn't understand why people loved him so much because all he did was what he wanted to do."