Welsh writers get platform at annual Hay Festival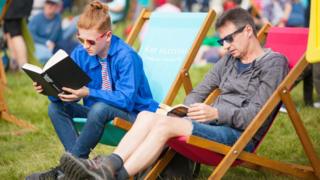 Welsh writers have been given a prominent platform at this year's Hay Festival.
The literary event in Hay-on-Wye, Powys, is one of the world's leading book festivals.
While celebrity authors and best-selling writers attract thousands of people to the Welsh border town, opportunities for lesser-known writers from Wales have been programmed into the event.
Writers at Work, which offers guidance and practical advice to emerging and established Welsh authors, has become a regular fixture of the festival.
It hosts creative writing workshops, masterclasses with star authors, and meetings with publishers and agents on the festival site, while some of the writers are taking part in events on the festival's main programme.
Among the more than 20 Writers at Work this year is Eric Ngalle Charles, a Welsh Cameroonian writer who moved to Cardiff after escaping people traffickers while emigrating to Europe more than 20 years ago.
He has been supported by the Hay Festival in the past, and this year has performed a one-man show about the family crisis that forced him to flee Cameroon as a 17-year-old.
"No-one can perform this play apart from me. It is very personal, very graphic," he says.
"It is a memoir, it is from a very dark place," he said.
Charles says the Welsh writing community, including the festival, had supported his journey from refugee to a member of the Welsh literary establishment.
He was recently appointed to the board of Literature Wales, the national body responsible for promoting writing, and he pays tribute to the poet Grahame Davies and the writer Jon Gower for guiding him to become a writer.
"I was so lucky that I met Grahame Davies, he took me under his wing. I would send my things to him, and he would send his comments - his constructive criticism," says Charles.
"And now Jon Gower says to me, 'Eric, you are a writer, it comes to you naturally' - so I have been groomed!"
Other Welsh writers have been honoured at the Hay Festival. Ed Garland won the New Welsh Writing Award, earning a £1,000 advance on an eBook deal and a critique by the literary agent Cathryn Summerhayes.
On Wednesday the acclaimed Welsh author and poet Mererid Hopwood joined Margaret Atwood and other international writers for an event to commemorate the armistice of 1918.
The writers all chose war poems written by poets from their own countries, and offered new works of their own which will be collected in an anthology to be published by the Hay Festival later in 2018.
Hopwood read two poems by Hedd Wyn and offered her own response to the works.
"The request was quite specific, to look at a poem from that period and to write a new poem in response," she said.
"Both poems are explicitly anti-war, but their message, alas, is as relevant today as it was then."
Hopwood is one of a number of successful Welsh writers to appear at the Hay Festival.
She said the event's role as a Welsh festival needed to be celebrated.
"As soon as you walk in to the field a new world seems to be created for you," she said.
"There is something unreal about this world of books, but it is great to have it, and really important for me, and so many others here, that the authors and the visitors, the readers, realise that this is in Wales and that we are very glad about that."