Volvo Ocean Race: Warm welcome as race reaches Cardiff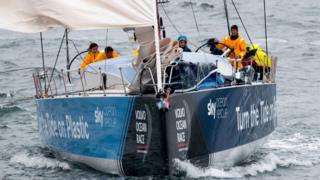 Sailing fans have been gathering in Cardiff to welcome the round-the-world Volvo Ocean Race to the city.
The Welsh capital is the destination for the 2,900-nautical mile transatlantic crossing - with the first boat arriving at 04:20 BST on Tuesday.
The race - including Welsh sailor Bleddyn Mon - left Rhode Island in United States on 20 May.
More than 30,000 people visited the racing village over the bank holiday weekend.
It is the first time in the race's 45-year history that it has come to Wales.
The seven teams and their boats will be staying in Cardiff until 10 June, when they set off on the 10th and penultimate leg of the race to Sweden.
The Welsh Government has spent more than £3m bringing the race to Wales.
First Minister Carwyn Jones official opened the race village on Sunday and urged people to get involved in the race celebrations.
"It's great for us to have the Volvo Ocean Race in Wales, it's worth £12m to our economy, and is one more big event for Wales," he said.
Bleddyn Mon, who is from Amlwch on Anglesey, was a few hours behind the leading boat as he approached Cardiff on Tuesday morning, as part of the crew on the yacht Turn The Tide On Plastic.
"Cardiff is the capital of my home country so I'm looking forward to seeing home. I'm really proud to be on my way from Newport, Rhode Island to Wales," said Mon, as he headed for the Bay.
"This is a big deal for me personally and professionally."
The team's race director Philip Allen said the race across the Atlantic had been "a very challenging leg".
"It's incredibly intense," he told BBC Radio Wales' Good Morning Wales.
"Some of these legs have been 22 days long. If you imagine living in a carbon drum for 22 days, with freeze-dried food, you are wet and cold - there's no shower.
"You have to be very tough."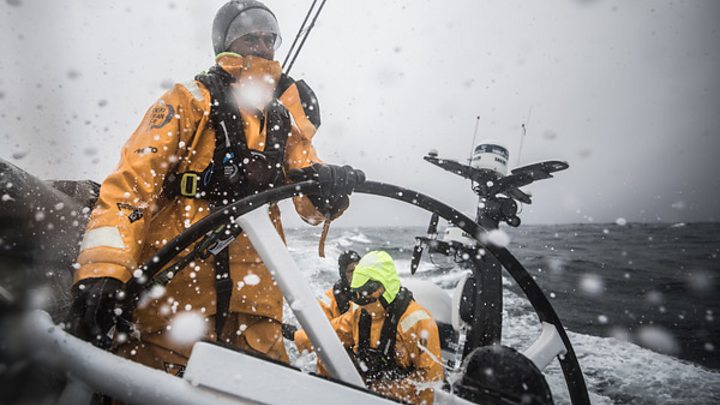 The race began in the Spanish port of Alicante in October 2017 and has stopped in Cape Town, Melbourne and Hong Kong, among other locations, before sailing into Cardiff for the first time in its 43-year history.
The race village is located on Alexandra Head, next to the skate park on the Barrage, with free entry and access to everything from water sports taster sessions, to circus workshops, evening live music sessions, and of course the race itself.