'Time running out' for Ombudsman's private health power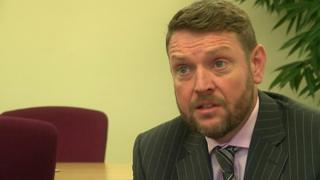 New powers to allow the public services watchdog to investigate private healthcare cases may not happen, the Ombudsman has warned.
Public Services Ombudsman for Wales, Nick Bennett, wants to be able to launch his own investigations and look at private healthcare complaints.
But there are fears new legislation will not happen as the financial resolution will not be agreed in time.
The Welsh Government said they needed a "full understanding of the costs".
Assembly members voted in favour of the Public Services Ombudsman (Wales) Bill in March with Finance Secretary Mark Drakeford then having six months to give the final go-ahead.
But, Mr Bennett said he was concerned two months had already passed and the summer recess was fast approaching.
"If this bill falls over the next few weeks then there will be a price to pay and I'm afraid it's going to be public service users in Wales that will have to pay that price," he said.
Under the bill the Ombudsman's remit would expand allowing the office to:
Accept oral complaints
Launch its own investigations
Investigate private medical treatment when it is combined with NHS treatment
Focus on complaints handling standards and procedures
Simon Thomas, chairman of the assembly's finance committee, which is sponsoring the bill, said talks with the Welsh Government had been "positive" but discussions must take place in a "timely fashion" to avoid a "last-minute rush" or losing the bill altogether.
"I think the citizens would want to know that the government stands four-square with them in their rights to deal with injustices, that they understand the difficulty around ensuring the best quality of public services in Wales, and that they put the citizen at the centre of addressing that."
If given the go-ahead, it will be the first committee-sponsored bill leading to legislative change in the assembly.
A Welsh Government spokesman said: "We have been clear we need a full understanding of the costs associated with the National Assembly finance committee's Public Services Ombudsman (Wales) Bill to enable us to table a financial resolution.
"We are working constructively with the finance committee."