Homeowners fight council over £100k collapsed wall bill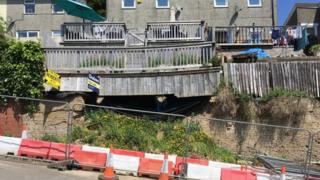 Homeowners in Abertridwr near Caerphilly have been locked in a battle with the council over a £100,000 repair bill for a collapsed wall.
Some residents of St Anne's Gardens said they have evidence that the retaining wall is the Caerphilly council's responsibility.
But the council denies owning the "dangerous" wall and issued notices for repair work to residents back in 2016.
At least four properties are directly affected by the collapse.
One resident, Chris Parry, commissioned advice from a surveyor, who suggested the wall was not constructed properly and should be rebuilt urgently at a cost of £16,000.
"We've had numerous letters from the council that they are dangerous walls and it's our responsibility to repair them," he said.
"The concrete wall will collapse further and the main sewer for the estate is behind it - that could collapse onto the road and cause serious damage.
"We're just hitting a stone wall with the council - they're right and we're wrong."
Mr Parry and another resident obtained a document known as an adoption agreement, which they both feel proves the council agreed to take responsibility for the wall in 1985.
The document states "that part of the wall(s) situated below the level of the highway at the back of the adjoining footway/verge/carriageway" would be "adopted" by the council.
A spokesman for Caerphilly council said it would only pay for repairs for infrastructure it owned.
"In accordance with the adoption agreement, the only walls that would be adopted on this street are those that are below the level of the highway, and have been designed as highway retaining walls," he said.
"The collapsed wall is neither below the level of the highway, nor does it retain the highway."
Before the wall collapsed, Jessica Emerson had agreed to sell her house on the street and move to a bigger family home with a second child on the way.
She and her partner are now facing a £25,000 bill to fix the section of wall at the bottom of her garden, and they said since 2016 things have been "stressful".
"The authority would have had to have given planning permission and signed off that the wall was constructed appropriately," she said.
If you've signed it off and you've looked over this then surely you should take some responsibility that you've agreed to allow houses to be built here on top of this wall that's not safe."
Together with the other residents on the road who are affected, the total repair bill is estimated to be at least £100,000.
Some residents said they had been offered a means tested grant of up to £10,000 towards repairs, while others had been invited to apply for up to £25,000 in loans from the council to help with the cost, but the terms were not affordable for everyone.