Ex-football stars with dementia 'forgotten' by authorities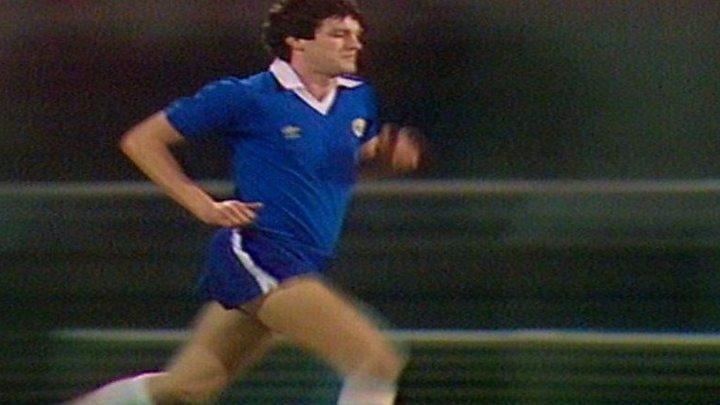 A possible link between dementia and football is being "swept under the carpet" by the game's authorities, a leading Welsh psychiatrist has claimed.
Dr Don Williams, who led the first studies into the possible link, said it was a "big problem" in the sport.
The Football Association (FA) says studies so far were "inconclusive" but it wants to understand potential risks.
It comes as the family of an ex-Wales international said former players were being "forgotten" by the authorities.
Former Cardiff City defender Keith Pontin, was diagnosed with dementia aged 59. His family are convinced his condition is linked to his career, which included almost 200 appearances for the Bluebirds in the 1970s and '80s.
His wife Janet, 52, from Pontyclun, said she is proud of his career but said she now "looks back and thinks was it worth it?".
They claim the defender was constantly heading the ball and sustained a "number of concussions" throughout his career.
Two years since his diagnosis, Keith, 61 - who has two grown-up daughters - has had to give up work, driving, and even conversations can be difficult.
Janet, who wants the football authorities to compile a register of former players with dementia, said: "Keith is not really the same person that he was, he's here but his personality has changed so much.
"He was a great husband, a great dad, a great laugh".
Swansea-based Dr Williams started studying dementia in ex-players in the 1980s, after the son of one patient asked him if his father's condition could be linked to playing football as an amateur.
His work, which followed 14 players living with the condition until they died, was published as part of a study last year.
"The public should know there is a risk, there is a problem", he said.
The former consultant psychiatrist at Cefn Coed hospital said: "No-one would think if one whacked one's smart phone regularly....that it wouldn't be damaged.
"I think the same must apply for the brain".
He joined calls to stop children heading footballs in Wales, as their brains "shouldn't be subjected to repeated mild trauma".
A new study into the links between heading a football and brain damage, funded by the FA and the Professional Footballers Association (PFA), started at the beginning of this year.
The FA previously said it felt "compelled to commission" the study to "fully understand if there are any potential risks associated with playing the game".
It said previous studies had "proved inconclusive" and the new research "will be one of the most comprehensive studies ever commissioned into the long-term health of former footballers."
The PFA said the issue had been on its agenda for the last 20 years.
In a statement, a spokesperson said "any concerns with regard to the potential impact on the career of a professional footballer is something which is first and foremost" for the organisation.
"We also provide financial support, advice, and guidance to former members who find themselves suffering as a consequence of any injury sustained during their playing career".
The Football Association of Wales (FAW) said the long-term health of all footballers was of utmost importance.
It said although research could not conclude a definitive link between repetitive head impacts and chronic traumatic encephalopathy (CTE), the findings warranted further detailed research.
"The management of sport related concussion has changed dramatically over the past five years with guidance evolving in response to research output and the international Zurich consensus," said a spokesman.
"The FAW fully endorse the Zurich consensus statement on concussion in sport and are committed to implementing these guidelines across all levels of the game."
It said it had produced football specific concussion guidance, which will be launched ahead of the upcoming season.
"This will be provided to all clubs in Wales and accessible via the FAW's website," the spokesman added.