Reflect Service expands in Wales for parents of children in care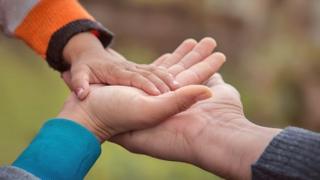 A project offering support for parents whose children are in the care system is set to be rolled out across Wales.
Reflect helps parents around issues such as contraception, housing, substance misuse and mental health.
It started as a pilot in Newport in 2016 and was picked up by Blaenau Gwent, Torfaen, Monmouthshire and Caerphilly last year.
Scarlett, a mother, whose children were taken into care, said the scheme has left her feeling "stronger".
She and her partner suffered difficult childhoods and did not know how to be the parents they wanted to be.
"They needed a parent, they needed a family, they needed the support, they needed a happy life," she said.
"It did hurt me when the kids were gone. All of the happiness that you had, the time you spent with the kids has disappeared - so you have to make your own again, but this time in a different direction.
"It doesn't mean they're disappeared for life, all you have to do is distract yourself and focus on yourself."
Scarlett said Reflect helped her do that.
"You can still walk that path where you can get to a better level, where you're not getting upset, you're not at home crying your eyes out, you're out there walking with your head up high - and you're not just doing it for yourself, you're doing it for your kids," she added.
"I hope I have a good career, I hope I have a good house, that I'm happy with someone in the future. I hope a lot changes.
"I hope my kids decide to search for me when they're 18 or older - happy to find their mum's a decent woman, she made a change for them and herself."
Sally Jenkins, head of children and family services at Newport council said: "It's not a programme about returning children, or parenting, it's a programme about repair and remedy for those women.
"The majority of women who lose children in this way will themselves have experienced multiple adversities, will have experienced loss, will have experienced trauma, so they don't have a roadmap preparing themselves.
"But it's finding a way to live with that for the future, so they can reconcile that for themselves and perhaps draw a halt to some of the damaging behaviours that they've previously used to try and address it."
The Welsh Government said funding will continue as the scheme is rolled out across Wales.