Betsi Cadwaladar: 17% increase in stress sickness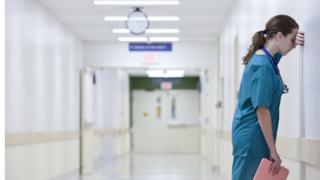 A health board has been urged to support its staff better after figures showed a spike in sick days because of stress.
New statistics show Betsi Cadwaladr University Health Board (BCUHB) lost almost 77,000 days due to stress and anxiety last year - costing more than £5.4m.
The board said it has improved mental health support for staff.
A union said health board staff had low morale and felt "powerless".
In a Freedom of Information request, BCUHB was asked how many sickness days it had due to stress between 2012 and 2017.
The health board, which is under Welsh government special measures, was also asked the estimated cost of those sick days.
In 2017, the total number of days lost to stress-related sickness was 76,919, which cost approximately £5,428,479.
In 2016, the number of sickness days was 65,786 and the cost was £4,932,456.
The figures also show a 17.3% increase in absences over six years.
Jan Tomlinson, chairwoman of Unison Cymru's health committee, said both staff and patients lost out when healthcare employees were off sick.
She said: "Unison's annual survey of Betsi staff reported low morale, frustration at being associated with poor service and a sense of powerlessness because managers did not consult or listen to them.
"Sickness absence can be reduced by improved employer procedures and welfare support.
"I want to salute the professionalism of Betsi Cadwaladr staff in keeping healthcare services running in very difficult conditions and I urge the authority to make staff welfare a priority."
BCUHB acknowledged that providing healthcare can be physically and emotionally demanding, and said it worked hard to provide "quality support" to staff.
A spokeswoman said extra training had been given to more than 200 staff as part of a drive to encourage "open discussion" of mental health within the workplace.
She added: "We have more than 16,500 members of staff and our rates of sickness are below the Welsh average."