Spit hoods to be used by Dyfed-Powys police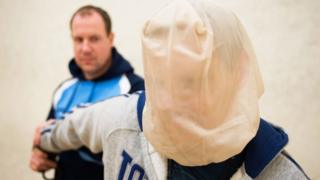 Spit hoods are being given to Dyfed-Powys police officers, who have been "subject to abuse".
There were 77 incidents against staff in 2017, which has prompted the move.
Campaign group Liberty has previously criticised the hoods, describing them as cruel and degrading.
The mesh fabric hoods, which are placed over the heads of suspects to prevent spitting or biting, will be used by officers in Carmarthenshire, Ceredigion, Pembrokeshire and Powys.
Critics say they are distressing and humiliating, can cause panic in the detained person, and make it harder to notice if a prisoner is having difficulty breathing.
'Duty to protect' officers
Assistant Chief Constable Richard Lewis said spitting and biting can have "long term and distressing" implications for officers, who sometimes have to take medication for many weeks afterwards to prevent infection.
It is one of 26 forces in Wales and England which have now rolled out the hoods to front line officers.
Dyfed-Powys police and crime commissioner, Dafydd Llywelyn, said: "Dyfed-Powys Police officers do their utmost to deliver invaluable services to the public, day in day out, no matter the circumstances.
"It is not right that they are subject to abuse whilst performing their duties, and it is our duty to protect those who strive to keep us safe and free from harm.