Dambusters memorial unveiled on Dutch beach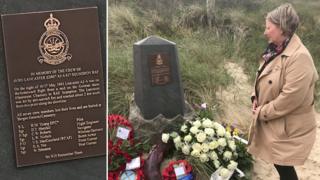 A memorial to an RAF gunner and his fellow crewmen who died while taking part in the Dambusters raids has been unveiled.
Sgt Gordon Yeo, 21, from Barry, Vale of Glamorgan, and his comrades died when their bomber was shot down over northern Holland on their journey home.
A memorial ceremony took place on the beach at Castricum aan Zee on Friday.
Second cousin Belinda Brown, a teaching assistant at Cardiff's Lakeside Primary School, unveiled the memorial.
She said she was surprised by the scale of the ceremony, which included a flypast.
It was attended by families of the other men, armed forces personnel and the Dutch organisers.
A total of 133 airmen participated in the Dambusters mission which saw "bouncing bombs" target dams in Germany in May 1943.
Sgt Yeo's aircraft, AJ-A, was just moments from safety when it was shot down by German forces.
The bodies of the men were washed ashore over the following days and were buried at nearby Bergen cemetery.
In all, eight planes were lost and 53 men died during the mission.