Cash for school sixth forms falls by a fifth since 2013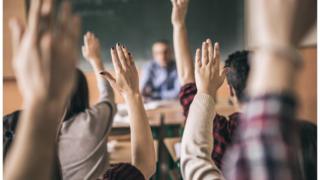 School sixth forms are in "crisis", it has been claimed, as government figures show their funding has been cut in cash terms by nearly a fifth over six years.
In 2018/19, the overall budget for sixth forms was £92m, down from £113m in 2013/14.
There has been a cut of £6m this financial year.
The Welsh Government said the decrease is largely due to a fall in the number of teenagers and many learners going to college or taking up in-work training.
But there is anxiety in schools about the level of funding.
Joyce Slack, the chair of governors at Whitchurch High School in Cardiff, which has one of the biggest school sixth forms in Wales with over 400 pupils, said cuts to post-16 funding in particular this year had "come as a shock".
She has previously warned of a funding crisis at the school, but she added that the school sixth form specifically had seen a cut of £255,000 this year and £1.4m over the past five years.
"Many heads have said to me over the last couple of months that this really is a sector in crisis now," she said.
"If you go back 10 years, at Whitchurch we were able to offer 21 post-16 courses at Whitchurch including the international baccalaureate - sadly we've had to to reduce that just because of funding issues."
"We've had to cut some key areas such as geology where we're felt to be sector leading."
She said voluntary redundancies had ensured they could avoid compulsory redundancies at the school this year.
"There is a lack of transparency about funding and outcomes for the whole post-16 sector," she added.
"I hope there is a strong enough voice for Welsh government to hear what is happening on the ground now and perhaps to involve us in plans going forward so we can feed back to them what young people want from their sixth forms and they can help schools deliver that".
Last month, Education Secretary Kirsty Williams confirmed that a proposed new body for funding higher and further education will also take responsibility for school sixth forms.
The Welsh Government said its calculations are based on data provided by local authorities about expected numbers and the courses they will be providing.
---
You might also be interested in:
Fining parents 'has no effect on school absence'
Pupils find spellchecker 'cheat' in test
Schools performing better in Wales
---
Budgets for school sixth forms are distributed via local authorities but the money comes from a separate pot to the fund for compulsory education up to 16.
The Welsh Local Government Association said education was feeling the strain because of austerity and sixth forms even worse because of the way they were funded.
A spokesman said it was "clear that funding for post-16 education would be better protected by being included as part of local authority's own budgets".
It is also arguing against the proposed Tertiary Education and Research Commission for Wales as "a move away from democratic accountability and a return to the quango state in Wales".
In 2017 there were 25,733 pupils aged 16 and over in local authority schools, just over 4,000 fewer than in 2013 when there were 29,806.
There have been a number of sixth-form closures in recent years including the closure of all sixth forms in Blaenau Gwent and Merthyr and a number of school sixth form closures in Flintshire and Pembrokeshire.
Funding has then been transferred to further education (FE) colleges or other parts of the post-16 sector.
There were 163 maintained schools with sixth forms in 2013/14 compared to 146 schools in 2017/18.
Sixth form provision in FE colleges is funded in the same way as in schools but the head of one of the UK's biggest colleges says that a critical mass of students means they are better placed to maintain provision.
Coleg Cambria has five sites in north east Wales.
"Once you get anything under about 200 students in the sixth form you really have to ask yourself the question is this offering the best choice, the best quality, the best experience for learners," said principal David Jones.
"Some people think that the solution to everything is to have sixth form colleges across Wales.
"I think it's important to have a mixed approach."