NHS performance recovers after winter but demand high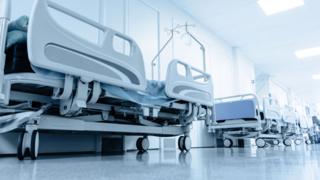 NHS performance in Wales is recovering after a particularly difficult winter, latest figures have shown.
In April, 80% of patients spent less than four hours in A&E, up from 75.6% in March.
However, performance was worse than the same period in 2017.
The NHS Confederation said it showed the health service was climbing out of the extreme winter pressures period but "remain in challenging times".
The four hour wait performance continues to be well-below the target of 95% - which has not been met since it was introduced.
Between March and April the number of patients having to spend more than 12 hours in accident and emergency units dropped by about a third.
However, the performance on this measure is also worse than in 2017 - with 3,819 patients spending 12 hours or more in A&E in April.
Targets said nobody should wait that long.
When you look at individual hospitals, in north Wales, Glan Clwyd still has only 60.8% of its A&E patients seen within four hours - an improvement on the month but worse than this time last year. Wrexham Maelor is not far behind on 62.2%.
The Welsh Ambulance Service also showed a significant improvement in its response rate to the most life-threatening calls.
In April 75.1% of red calls received a response within eight minutes - in the three previous months performance had been below 70%.
The latest figures also showed an improvement in NHS performance on waiting times for planned care, with 0.3% fewer patients in March waiting over 26 weeks, and 6,912 fewer patients waiting over nine months.
However, more than 12,000 patients continue to be waiting over nine months for treatment, even though the targets say nobody should wait that long.
Performance on both these measures has remained fairly stable since early 2016.
You might be interested in these stories:
A&E figures hit another record low
Emergency departments 'like a battlefield'
£3.1m clawback for failing to meet target
Waiting times for cancer care have also been broadly stable over the last two years - however performance in other parts of the UK have deteriorated significantly during the past five years.
However there has been more distinct improvements in Wales more recently on waiting times for diagnostic tests and specific therapies.
The number of people waiting over eight weeks for diagnostics is at its lowest level in nine years.
For therapy services, the number of people waiting over 14 weeks is at its lowest level in seven years.
Vanessa Young, director of the Welsh NHS Confederation - which represents health boards - said demand for services remained high.
The latest figures show, for example, that numbers of patients attending A&E has been growing steadily for the last five years - and is now comfortably over one million for the last 12 months.
NHS performance recovers after winter
There have also been an extra 17,000 calls to the ambulance service in the last 12 months, compared to the previous year. The number of category red and amber calls have both risen by 10%.
"The NHS was set up 70 years ago to shoulder the burden of health care, to make sure we all can access the right care when we need it," she said.
"It has become a system that cannot cope with the modern demands in terms of numbers of patients and complexity of needs. As we struggle to deliver on Aneurin Bevan's vision, it is the people that suffer as delays in access become the norm."
She said a new plan for health and social care was expected to be launched by the Welsh Government in June and it needed to be "a blueprint" for tackling challenges and a clear direction of travel.
A Welsh Government spokesman said: "After one of the busiest winters on record, latest figures show we are making important progress on reducing waiting times."
He added that they expected more further significant progress on performance and were "working with health boards to ensure they deliver improvements and will hold them to account if they do not."