Bad Wolf: Ministers' loan ensures firm stayed in Wales, says founder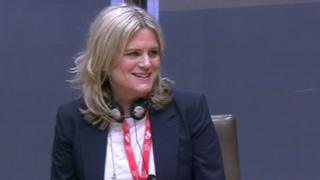 One of the bosses of a major film and TV studio said the Welsh Government's loan keeps her working in Wales in exchange.
Bad Wolf founders Jane Tranter and Julie Gardner received the investment to establish the studios in Cardiff.
Ms Tranter told AMs the loan was "nifty" business by the Welsh Government as it ensured the firm would invest in Welsh crews and productions.
She said the company had brought £134m worth of productions into Wales.
In 2005, the two women were responsible for reviving Doctor Who for the BBC.
Ms Tranter told the committee that the loan had enabled Bad Wolf to attract £134m worth of productions into Wales and had created 245 jobs, as well as contracting 193 local businesses. It had also taken on 12 full-time trainees.
It has also built a classroom in its studio and has taken 160 school children through the studio as part of its project to encourage students to consider a career in the creative industries.
Bad Wolf has already filmed A Discovery of Witches for Sky 1 and will shortly begin shooting an adaptation of the Philip Pullman novels His Dark Materials which is expected to be one of the largest TV productions made in the UK this year.
But Ms Tranter told the assembly culture committee that she had missed out on securing another huge franchise when the TV rights for the Lord of the Rings recently became available.
"Bad Wolf worked with HBO to make a bid for Lord of the Rings, to bring that to Wales," she said.
"That ultimately went to Jeff Bezos and Amazon, because they paid $250m for the rights to make it, and we couldn't even vaguely compete with that.
"But part of our bid was the opening up of Wales for Lord of the Rings, and it was my ambition that Wales would become Middle Earth in the same way that New Zealand did [with the film franchise]."
Asked about the £4m loan, she said: "As far as Bad Wolf is concerned, essentially what that money did was hold the feet of myself and co-founder Julie Gardner to the fire, because in exchange for that loan I can't work anywhere else."
'A massive magnet'
Ms Tranter said the conditions attached to the loan were "stringent" and would ensure Bad Wolf committed to training and employing Welsh workers, and to bringing major productions to Wales.
"Because we took the money in that way, it gave Julie and I the freedom to set up Bad Wolf in Wales as we wanted to," she added.
"And then it meant that when we turned around and were saying 'we are going to do this with HBO' or 'we are going to do this with Sky', along with that came 'and by the way, we have to film it here. We have to do it in Wales.'
"So it meant it was like a massive magnet to pull those broadcasters. If you want to work with Bad Wolf, you are going to have to come here to do it."
Ms Tranter said the loan was a mutually beneficial arrangement for a new film studio and a government seeking to grow the creative industries in Wales.
"I think that was quite a nifty piece of business by the Welsh Government," she said.