Paralympian fears for table tennis career over care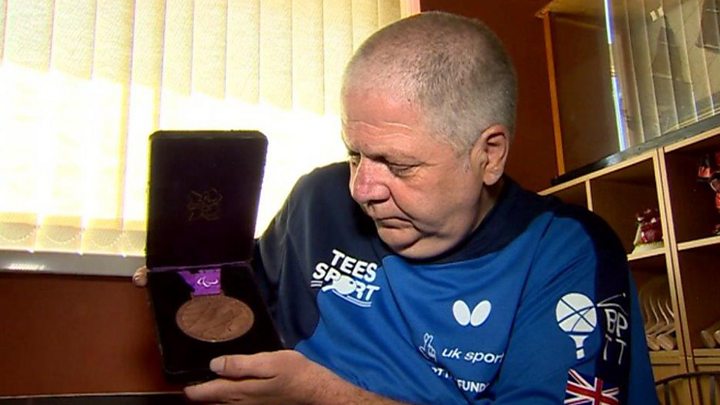 A Paralympic medal-winning table tennis player said his career could end due to a council decision over his care.
Paul Davies, 51, who won bronze at London 2012, claimed the amount of care offered meant he could no longer train or compete with the British team.
Mr Davies, from North Cornelly, Bridgend, was cared for full-time by his wife Deborah, but she died in 2016.
Bridgend council said it believed it had offered "a plan of care and assistance" designed to meet his needs.
The para-athlete, ranked sixth in the world, has been playing table tennis for more than 20 years after he was paralysed in a motorbike accident in 1986.
Mr Davies's wife died just days after he returned home from the 2016 Paralympics in Brazil.
"I've lost my carer and the love of my life," he said.
His son Jonathan became his carer for a year until the Paralympian decided to apply for help from social services.
Because he also has problems with his arms, he needs help getting to his car and in and out of his wheelchair.
The bronze European medallist said he needed two full-time personal assistants working about 85 hours a week to help him continue his career so they could travel with him to training camps in Sheffield and tournaments around the world.
"Last week and the week before I should have been in Slovakia and Slovenia. In March I should have been In Italy", he added.
He said Bridgend council offered enough money for between 32 and 55 hours a week, but it was not enough to pay someone to travel with him.
Mr Davies said he did everything with his wife before her death, adding: "We never asked them for anything at all and now I'm in need of support I'm not getting the support I require."
Paralympic champion Baroness Tanni Grey-Thompson said it was "really sad if someone's career in elite sport is going to be ended because they can't get the right support package".
The Cardiff-born peer called it a "postcode lottery", adding: "The situation he [Paul] is facing is similar for a huge number of disabled people who are struggling to get the right support for their needs".
South Wales West UKIP AM Caroline Jones, who has been helping the table tennis star challenge the decision, said the authority had "fallen short of assessing Paul's needs".
"We should be proud of our Paralympians, we should be pushing them all the way," she added.
The council said it did not have permission to disclose the details of this case but said it made "every effort to accurately assess what someone's individual care needs may be".
A spokesman said all relevant factors - including health or personal care as well as what sort of travel arrangements will be necessary - were considered, adding: "We fully support Mr Davies's aspirations and wish him every success in representing his country."