Welsh band Boy Azooga's 'shock' at TV gig with the Manics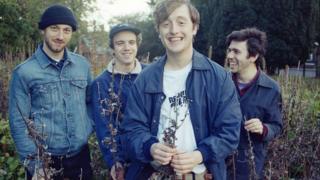 A Welsh boy band say they are in disbelief after being chosen to play their first televised gig with the Manic Street Preachers.
Boy Azooga will play on the late-night music programme Later with Jools Holland on BBC Two on Tuesday.
In what will be the Cardiff-based group's first television appearance, they will also play alongside Welsh language artist Gwenno Saunders.
Founder and lead singer Davey Newington said it was "crazy".
The psychedelic pop/rock band, who formed a year and a half ago, were spotted whilst playing a gig in London and were invited to go on the show.
Mr Newington, 26, said: "We were doing a gig in London and all we were told was that a man was going to come down to watch us play.
"As it turns out, he was from Jools Holland and a week later we were told that we had a spot on the show.
"It doesn't feel real, it's crazy."
Mr Newington, along with bandmates Sam Barnes, Dafydd Davies and Dylan Morgan are now preparing for the show which will be aired on Tuesday at 22:00 BST.