'Reject' parts of Tawel Fan report call by families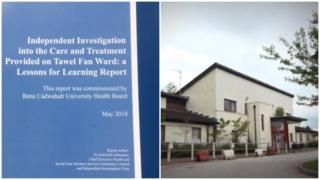 Families of patients at a scandal-hit dementia care ward have called on officials to reject some findings of an inquiry into what happened.
The report said there was no institutional abuse at Tawel Fan in Glan Clwyd Hospital in Denbighshire.
The conclusion differed from an earlier investigation, which saw the ward shut and north Wales' health board being placed in special measures.
The health board said it now wants to implement the report's recommendations.
The families met senior officials from the Betsi Cadwaladr University Health Board (BCUHB) on Monday evening to discuss the full findings of the 300-page inquiry report carried out by Health and Social Care Advisory Service (Hascas).
It had concluded that the findings of a report made public in 2015 were based on evidence that was incomplete, misinterpreted, taken out of context, based on misleading information and misunderstood.
The previous report by health official Donna Ockenden had included a family's claim that going to the ward had been like visiting "animals in a zoo".
Her inquiry described accounts of the most vulnerable patients, including elderly patients with dementia, left to lie naked on the floor.
But the Hascas authors said they had found that family accounts of their relatives' treatment on the ward had "differed greatly".
However, speaking after leaving a two-and-a-half hour meeting with the health board, families told BBC Wales that they remained unhappy with the Hascas findings.
"We're getting a bit fed up - we want action, we want fair play, and we want the truth," said Robin Formstone, who witnessed his 88-year-old mother Ada sleeping in an ant-infested bed at Tawel Fan.
Another patient's relative, Tina Cox, said they accepted that some parts of the Hascas report were "good and thorough" - highlighting systemic failings in management across the health board.
"But they've picked-up on all the good stuff - and not the bad stuff," she said.
BCUHB chief executive Gary Doherty said the meeting with families had been "intensive" but was a private event, and he was unable to comment on the details of discussions.
He said the focus was now on studying individual reports on patients prepared by Hascas and "putting together our action plan, and implementing the 15 recommendations".
A second report from Donna Ockenden looking at the governance and management at the health board at the time is also expected to be published later this year.