New presenting team for BBC Wales Today news programme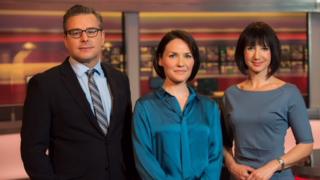 A new team has been unveiled to present BBC Wales' main English language news programme following the departure of broadcaster Jamie Owen in January.
Current Wales Today presenter Lucy Owen will be joined by BBC Wales' political editor Nick Servini and news presenter Jennifer Jones.
The team of three will front the lunchtime, evening and late bulletins on BBC One Wales.
The new team will begin work on Monday 4 June.
Ms Owen, who has been in her role for more than 10 years and also presents the consumer show X-Ray, said having three presenters would give more opportunity to work on location within the programme.
Jennifer Jones is already a familiar face on the programme working as a presenter regularly, and has previously presented Welsh-language news programme Newyddion.
She said: "Being one of the main presenters on Wales Today is a huge privilege and I'm delighted to be part of such a hard-working and talented team of journalists."
Nick Servini is leaving his job as political editor to take on the role. He was previously BBC Wales' business correspondent.
He said: "After reporting on politics for Wales Today for many years I'm looking forward to taking up the challenge of presenting the programme."