Aneurysm screening: Ignoring it 'is like passive suicide'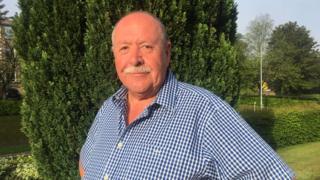 A man who could have died from a weakness in a blood vessel if a screening programme had not detected it has urged other people not to "commit passive suicide" by ignoring testing.
John Leach, 66, from Cardiff, had surgery to repair an abdominal aortic aneurysm (AAA) after a routine scan offered to all men over 65 detected it.
Since the programme was introduced five years ago in Wales, 900 people have had an aneurysm detected.
Around 230 people a year die from them.
Mr Leach told Radio Wales' Good Morning Wales programme he had no idea of his condition prior to the screening test he was invited to attend, with no pain or symptoms.
"You get a standard letter. It was so inconvenient, the day before we were going on holiday, but I thought, 'better go', and my wife, who's a GP, said the chances of you getting one are very slim. The odds are against it," he said.
But doctors detected a large weakness in his abdominal aorta, the main artery running through the centre of the body.
His surgeon at the University Hospital of Wales told him the aneurysm might stay intact for another six months, a year or maybe five years, but he would not survive if it ruptured and would have "an unpleasant death".
He said in his case the cause was "without a doubt" smoking.
"I was a teenager in the 60s. There was an ashtray in the surgery," he said.
"My doctor smoked and my mother in the 50s was advised to take up smoking to help her deal with post-natal depression.
"It was quite common. By the time I kicked it I'd been smoking for almost 40 years. When I see people having a sneaky fag I want to rip up my shirt and show them my one-foot scar."
His message to other people who are invited for screening but are considering ignoring it is stark.
"I would give them a loaded gun. Would they consider suicide? Probably not but by not going it's a kind of passive suicide. I don't know why they would not go.
"I was told the procedure would be five hours, up to three days in intensive care, up to seven to ten days in the ward. I was actually home in six. Recovery took three months - back to normal."
Llywela Wilson, head of the Wales AAA screening programme, said 80% of men invited for the screening had attended since it launched in 2013 as the first male-only national screening programme.
Prior to this there were only three local programmes in Wales.
"By merging them into one national programme, we have ensured that all 65-year-old men living in Wales and registered with a GP are offered screening," she added.
Abdominal aortic aneurysm
Sometimes the wall of the aorta in the abdomen can become weak and stretch to form an aneurysm. When this happens there is a risk that the aorta may split or tear (rupture)
The screening is offered to men in Wales aged over 65, is carried out by ultrasound and is non-invasive
In 95% of cases it affects men over 65
Women are not invited to screening at that age as typically it affects them 10 years later
(Source: NHS Wales)